Young footballers ready to kick off like stars from the Premier League
14th October 2021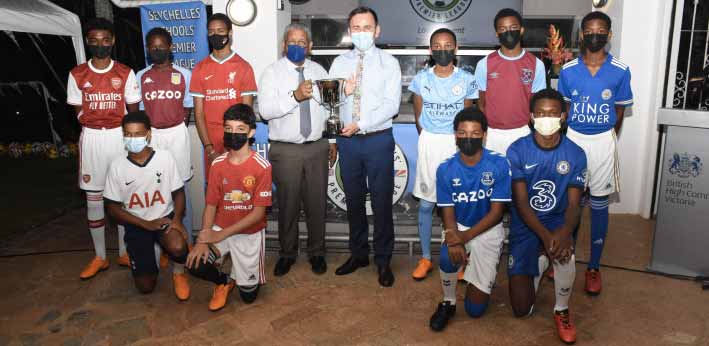 An inspirational new sporting initiative has been launched to encourage youngsters to play football in Seychelles.
The Seychelles Schools Premier League is a collaboration with the British Government in which ten teams from Mahe will be "paired" with professional teams in the English Premier League and play each week.
The teams – of boys under 15 – will have the same team strips as Premier League sides.
The new league was kicked off by British High Commissioner Patrick Lynch alongside President Wavel Ramkalawan, who is patron of the Seychelles Football Federation.
Mr Lynch said it would remind people of how it feels to be excited about football.
He said that the "league is all about shared history, shared values and tonight, our shared love for football".
He went on: "This is about more than just football and this is about more than just one season. But, I can tell you that this first season – and the football it brings – is going to be a lot of fun."
A draw was held to deter.mine which school would represent which premier league team. The teams are: Arsenal, represented by Perseverance; Aston Villa by English River; Chelsea by Beau Vallon; Everton by Pointe Larue; Leicester City by Anse Royale; Liverpool by Plaisance; Manchester City by Belonie; Manchester United by Independent School; Tottenham Hotspur by Mont Fleuri; and West Ham by Anse Boileau.
The teams were presented with kit and equipment for the tournament, which will run up to December 3.At the end of the season, the winning team will be awarded a trophy similar to the Premier League cup.
The winners will also get a chance to go to England and even visit the club which their school represents.
Seychelles Life believes this is an excellent initiative on the part of the British High Commission.
Inspiring youngsters to follow in the footsteps of great players from these legendary clubs is a positive move.
Lewis Betsy, publish.er of Seychelles Life, said: "Seychelles Life will give the project its full support because football has gone backwards in Seychelles since the government introduced zoning in 1979 when the sport was at its peak.
"We have dropped down in world football ratings, but this may give us the chance to build a new generation of superstars who can take the 'beautiful game' to a new level."
The Kevin Betsy Foundation, led by Lewis's son Kevin who is now Under 23s coach for Arsenal, has equally played its part in providing training and kit for young players. It too aims to encourage the love of sport and improve the standard of the game in the islands.
Georges Bibi, chief executive of the Football Federation, says the Seychelles Schools Premier League will not replace the existing inter-school tournaments, which cater for different age groups.
He explained that the Federation is bidding to host the Council of Southern Africa Football Association's under-15 championship. "This tournament will go towards preparing for that," he said.
Now the league has been launched in Mahe, teams from Praslin and La Digue are expected to be set up in November, with a league for girls in March next year.