You have been true servants for the people of Seychelles, President tells former High Commissioners
10th August 2017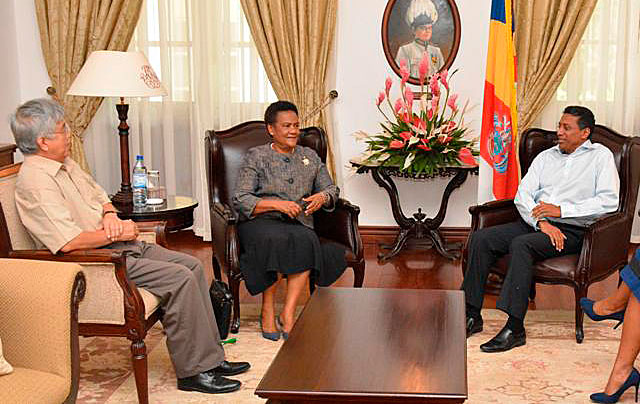 Ambassador Marie-Pierre Lloyd, the UK's previous High Commissioner for Seychelles, has been personally thanked for her work by President Danny Faure
The President welcomed Ambassador Lloyd and Ambassador Bernard Shamlaye, who represented Seychelles in France, to State House.
He told them: "You have served Seychelles in various posts and both of you have remained loyal and as true servants for the people of Seychelles. So today, on behalf of the Government and Seychelles I wish to formally thank you both for the roles you have played in the development of our country."
Ambassador Lloyd was the High Commissioner for Seychelles to the United Kingdom for four years and last year was named the 2016 Diplomat of the Year from Africa.
She entered Seychelles' public service in 1976 and has held many other senior positions, including Roving Ambassador for Women & Children's Issues, Minister For Health and Social Development, Minister for Employment and Social Affairs, Special Adviser to the Minister of Social Affairs and Employment, and Secretary Of State at the Ministry Of Education, Information and Youth.
Mrs Lloyd said afterwards: "The meeting was held so the president could thank me as high commissioner and as somebody who has been in the government as a public servant.
"We also touched on the work and projects done during my diplomacy work in the UK and also the challenges encountered. Now that I am retired it gave the president an opportunity to thank me for the contributions I have made to national development. I also shared my future plans."
Mrs Lloyd is in a movement called "Sov Nou Zanfan" which supports parents who have children who are drug addicts or taking drugs.
"This is what I want to do, because when I was working with youths, with women, parents, community, I became aware that this is one of the national challenges," she said. "We all need to pull together to see how we can address it."
She added that sometimes parents could not detect signs of drug addiction in the very early stages. But if detected it could help them "prevent their kids from falling prey to drug addiction".
Mr Shamlaye, a former teacher at Seychelles College, was Ambassador for Seychelles in Paris for more than four years. He served as Minister for Education and later Minister of Culture and Social Development prior to his appointment as Ambassador in 2012.
Mr Shamlaye said that although he has retired from public service, he will remain active to serve Seychellois society.
He said he felt lucky to have had a career in education. "The time I spent working with students was the most joyful time of my life," he said.