Thousands of protesters demand a fresh Presidential election, so why isn't Danny Faure listening?
13th November 2018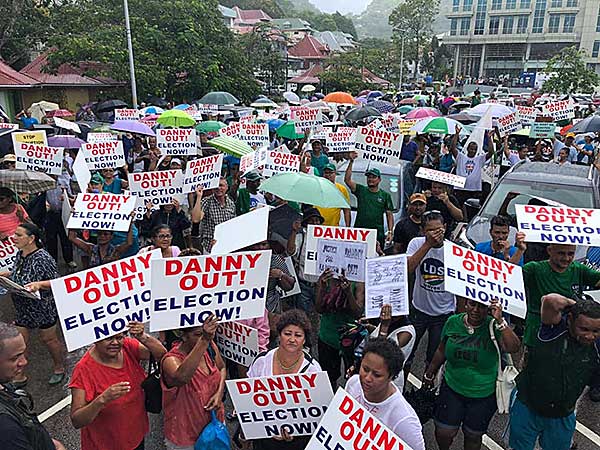 By Lewis Betsy
There are growing public protests over the refusal of Danny Faure to hold a fresh Presidential election.
But is he listening?
I wish he was. The state of Seychelles needs someone to pay attention to what the people want.
This latest demonstration saw an estimated 2,000 people gather at Stad Popiler gather for a Linyon Demokratik Seselwa (LDS) march through town.
It was bad weather, but they braved the wet and brought umbrellas along with their placards.
The Leader of the Opposition, Wavel Ramkalawan, made a speech saying that Seychelles has lost direction and this is why he is calling for "Danny Out" and and an "Election Now".
LDS is ready to take over and run the country, he said.
He also talked about corruption and said that security is out of control. On Assumption, he said there will be no new military base sited there.
The leader of LDS Roger Mancienne told the protesters: "We are a party who values stability, peace and unity, but we are conducting this march as a way to give the population a voice. This forms a part of our democracy. We have a government in our country that is not functioning."
He said LDS was doing its best as the majority party in the National Assembly and that it has uncovered the truth for many Seychellois, but the National Assembly's powers are limited.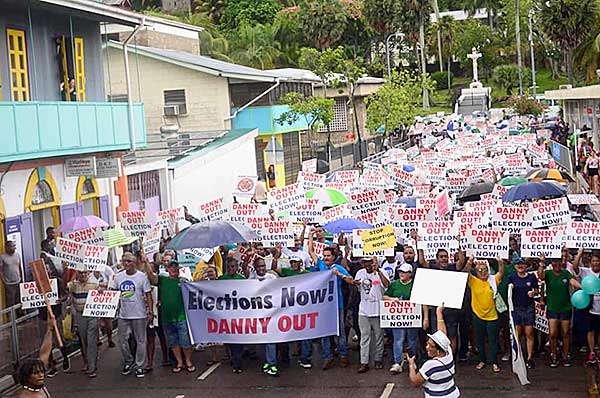 Mr Mancienne went on: "Let me remind you of the principal problems our country is facing today. Our battle against corruption and the way taxpayers' money is being spent is still an issue. The population is being robbed. It is time that we put a stop to it."
Well, I am with both leaders on these issues.
Seychelles Life has long called for fresh Presidential elections. We have always felt the "pas baton" system in which Faure inherited the Presidency from James Michel was wrong.
If he is to be our President then we should choose him.
We have consistently pointed out the many things going wrong in Seychelles at this moment. The country is going in circles with no ready solution to the ills of corruption, inequality, poverty and drug addiction.
If President Faure is confident he is the man for the job he should call the election now.
But with the opposition groups jostling, as they always have, for their own bits of power I fear he and the SPPF/Parti Lepep are biding their time, waiting for the moment to strike.
We must have a united Seychelles to deal with the problems hurting us and it means the opposition has to work harder.
Whatever happens though, Danny Faure can't turn a deaf ear to all this protest. People don't like being ignored.