President's message gives Sir James encouragement in his cause for national unity
4th May 2016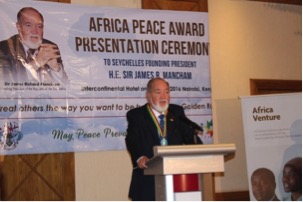 Sir James Mancham believes an important step has been made towards reconciliation and national unity in Seychelles.
Accepting the Africa Peace Prize 2016 in Kenya, Sir James commented on the congratulations given to him by President Michel.
President Michel had said: "We share your vision and commitment for a peaceful, harmonious and loving Seychelles."
The tribute was passed on by the Seychelles Ambassador to Kenya, Joseph Nourrice.
The Ambassador said that Sir James had contributed significantly to the progress of Seychelles, through his policy of national reconciliation and had enhanced the international standing of the republic through his participation in several peace-orientated international forums.
The Ambassador noted that this point of view is fully supported by the message that President Michel sent when it was announced that Sir James has been honoured with the Africa Peace Award.
Ambassador Nourrice read out the message from President Michel: "This precious award is an acknowledgement and recognition of your outstanding contribution in the promotion of peace, democracy, security, interfaith harmony, intercultural dialogue and development in Africa as well as nurturing the spirit of partnership at both continental and global levels.
"We are extremely proud of this achievement which not only honours your remarkable contribution at the continental level, but also honours Seychelles and the Seychellois people in what they represent today in their commitments to sustainable development democracy and peace.
"We share your vision and commitment for a peaceful, harmonious and loving Seychelles. We pay tribute to your statesmanship and celebrate with you this great accomplishment."
In his acceptance speech, Sir James expressed his appreciation to Mr Michel, not only for the congratulations, but more importantly for moving forward towards a policy of reconciliation and national unity.
He also recalled that when he visited Kenya for the independence celebrations in 1963 the most popular song was "Harambee".
He went on: "I learned from my African friends that the lyrics of the song professed that all Kenyans should now work together in fraternal harmony to promote and consolidate stability, peace and prosperity in the interest of all. There lies the 'spirit of Harambee', a spirit calling for national unity and national harmony which today must be made to prevail not only in Kenya but in Seychelles, the African continent and the entire world."
Sir James was highly praised as Kenyan and African leaders, diplomats and religious leaders attended the ceremony organised by the United Religions Initiatives (URI-Africa) working in association with Common Purpose International and the World Leadership Alliance-Le Club de Madrid. The Africa Peace Prize 2016 was presented as an integral part of a forum on African leadership.
Carlos Westendorp, Secretary General of the World Alliance-Le Club de Madrid which is an association of more than 70 former Presidents and former Prime Ministers of democratic nations, noted that since becoming a member Sir James has been one of the most articulate and active members of the Club and that it fully endorsed the decision taken for him to be awarded the peace award.
Dr. Elsbeth Dixon, Chief Executive Officer of Common Purpose Africa which has been spearheading cross boundary leadership training, said that after listening to Sir James, she now knew why he so fully deserved the award and wished to assure him of the full support and commitment of Common Purpose Africa with the challenges ahead.
The peace award was presented to Sir James by Mussie Hailu, Regional Director of URI-Africa, who described him as "an apostle of national reconciliation".
There were many other tributes. They included praise from Nachiket Dave, Senior Advocate Supreme Court of India, and Professor Dennis Hardy, Vice Chancellor of the University of Seychelles,.
Nachiket Dave said: "The contributions of Sir James are truly a boon to the Mankind. Very seldom do we come across men of such high intellect and a heart full of love that they tirelessly devote their entire lives for the betterment of humanity."
Professor Dennis Hardy said: "I was delighted to read of your latest success. Let us now move forward with the idea of Seychelles as a hub for peace studies."