Our new President Faure has said the right words, but will he be able to deliver?
1st November 2016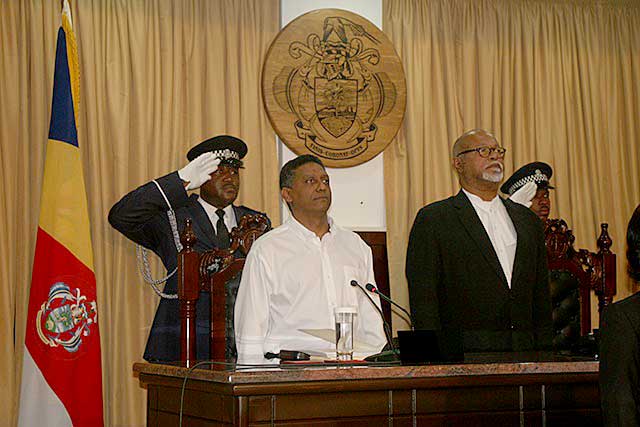 By Lewis Betsy
It was a day to remember in Seychelles history when on Sunday 16th October, Danny Faure spoke to the nation for the first time as the new President.
His inaugural speech was well presented and, I have to say, what he said sounded convincing.
He also addressed the National Assembly two days later in a spectacularly delivered speech. The people expected a standard address but not as prepared and executed in style as this one.
Fine words. But what about positive action?
Faure may have been a teenager in 1977 when a group of thugs thirsty for power took over the country and put Albert Rene in charge of our beautiful group of islands, but he has always appeared politically astute. He therefore knows how to tick all the right boxes. The fourth president kicked off by praising his predecessors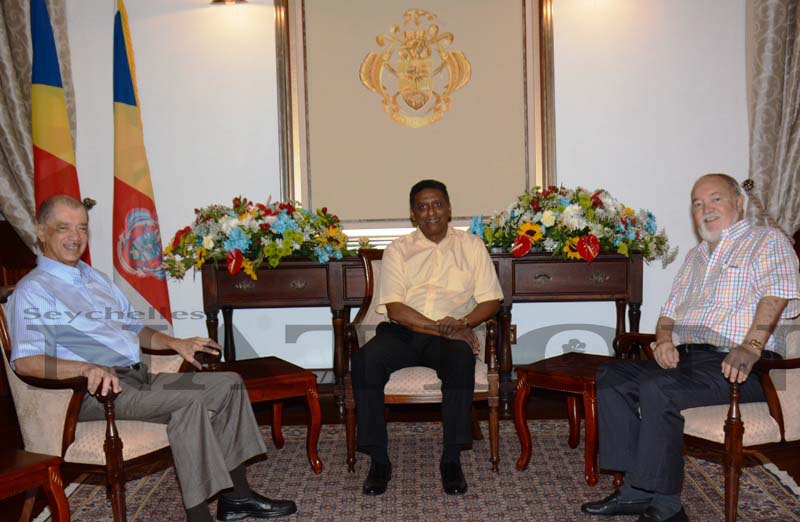 Faure said: "Today is the start of a new chapter. On behalf of the Seychellois nation, I pay my respects to President Mancham, President Rene and President Michel for their leadership roles. I also take this opportunity to salute the people of Seychelles for their contribution in making Seychelles what it is today."
He addressed the nation in great vigour and style.
He talked about good governance, transparency, accountability and reassuringly, unity and reconciliation too.
"As your President, I believe that for Seychelles to really achieve national unity in every sense, we must undergo a process of true reconciliation.
"We stand to achieve much more as a nation and as a people if we overcome that which divides us. Let the differences in our political opinions be a source of strength that dynamises our democracy, and not one that chokes it. We must see the diversity within our unity as a new force that strengthens this national unity that we truly want for our Seychelles.
"Dear Seychellois brothers and sisters, Seychelles is greater than us. Seychelles is our true homeland. We all have a place within it.
"The government will put the Seychellois people at the centre of its development and will accelerate the implementation of their programme more."
He went on: "Each one of us can interpret election results in different ways. What is absolutely clear is that through the will of the people, Seychellois have asked us to engage in dialogue and to work together. So today, more than ever, we must work together for the benefit of our people and Seychelles."
Some observers had feared that a Parti Lepep President and a National Assembly dominated by Opposition MNAs would clash from the word go.
Faure pointedly said: "I am ready to work with our National Assembly."
He explained: "I shall address the National Assembly, that institution where I started my political career 23 years ago. I shall use that occasion to speak about the work of our Government.
"During these 39 years, Seychelles has developed. Seychelles has progressed. For many of our citizens, government has done much to make their lives happier and better. Nevertheless, there remain other brothers and sisters who believe that government is the reason for their pain and suffering, and to them, I present a sincere apology.
"I believe in honesty, integrity, and frankness. If any of our citizens have any complaint, or any evidence of wrong-doing where laws are not being respected, or where someone's human rights are being violated, or abused, he or she should, without fear, approach the relevant authorities for redress. In this regard, all citizens must take responsibility for their actions."
I was impressed when he said sorry for the pain the people had suffered from government. It was the first time an apology had been uttered at that level and I hope that it was genuine and not just a token gesture.
The President also went to talk about reconciliation, unity, poverty and the drugs problem.
It was my favourite section of his speech as I've been working for all my life to get action on these issues.
It seemed a promising start on getting Seychelles back on track to being a harmonious nation once again.
The President should understand the pressure that the people of Seychelles have felt and lived under for the past 39 years. They want a change of direction and they think that at the moment LDS can provide that.
I've said it before and I will say it again: the people of Seychelles suffered under four decades of rule by the SPUP, SPPF and now PL. They want that change now.
The first two weeks in his Presidency Faure has been talking to many organisations while the National Assembly has got on dealing with the job in hand.
Part of that is making new ministerial appointments and for the first time in its history, nominated candidates had to give a summary on why they were best suited for NA posts and answer questions from the MNAs.
It was fascinating to see how the new NA power game worked. When Vincent Meriton was selected as Vice-President the 14 members of Parti Lepep backed him, while the 18 members of LDS abstained. The same voting patern went to Macsuzy Mondon, currently the Minister for Education, who became Designated Minister – and the first woman to hold the post. Peter Larose who was nominated for a ministerial role was elected unanimously. The MNAs liked him because they said he was a "technocrat".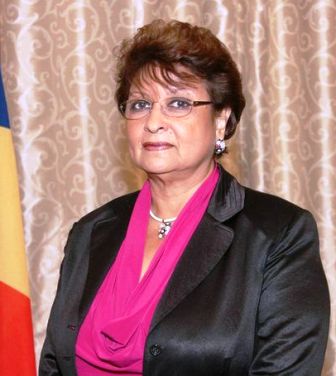 Three other Parti Lepep nominees for ministerial posts – Marie-Louise Potter, Dick Esparon and Patrick Herminie – failed to get elected as the 18 members of LDS voted against them.
That's politics for you. No one is going to get an easy ride in this session.
Yet, despite this I see signs that the people of Seychelles can work together for a better future.
I think one main issue to settle is the next Presidential Election. Faure felt comfortable with the "Pas Baton" system under which the vice-president assumes the presidency upon the resignation of the serving president as clearly he benefited from it. But this looks like it will change next March. Following talks between Faure and leaders of the LDS the Constitution will be amended so that there will be no more transfer of power in similar circumstances as we have seen in the past.
This is a good move. A president should be elected to the post, not given it like some kind of gift.
Hopefully President Faure will have also the sense – and the courage – to take the next logical step to ensure the right candidate is in post.
He should call for a Presidential election – and sooner rather than later. I think that not only would LDS members in the National Assembly applaud his decision but most of the people of Seychelles too.
They deserve better and so for a better future I call on President Faure to do the right thing and call for a Presidential election. I don't want the announcement next week, next month, or next year. I want it now.