New union set up to improve rights of workers in Seychelles
14th October 2017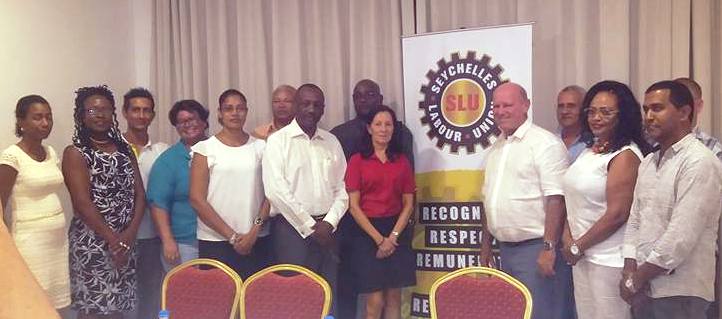 A new politically independent trade union has been created in Seychelles.
The Seychelles Labour Union (SLU) was established following a meeting of a group of workers, and the self-employed.
They included teachers, health workers, stevedore workers, landscape gardeners, musicians and entertainers, office workers, taxi drivers, truck drivers and shop owners.
Alain St.Ange, Paul Chow, Bernard Port-Louis, and Peter Sinon addressed the meeting to explain their broad objectives and the reasons why they felt the need to set up a new union.
Alain St.Ange, who was appointed president, said that the SLU will work for the betterment of working conditions as well as campaigning to ensure the right conditions to work for those who are employing workers and venturing as self-employed entrepreneurs.
The SLU will aim to be associated with other important trade unions internationally to benefit from their experience and support.
Mr St. Ange quoted Virgin boss and entrepreneur Richard Branson who had said: "The key to success in business is all about people, people, people. It should go without saying, that if you look after your people, your customers and bottom line will be rewarded too."
Mr St.Ange went on: "Today when analysing who are the people who stand behind politicians, investors, corporations and the economy, it is the working people.
"It is a fact that the Government of the day can propose a new regulation that can better the lives of all its citizens, inclusive of every worker, the self-employed and the business community, as and when they feel the need to do so arises.
"The Opposition in the Seychelles National Assembly can, on their part, propose a Private Members Bill if and when they feel there is the need to bring about better conditions for the citizens, inclusive of every worker, the self-employed and the business community, of the country.
"They have successfully shown that for the Offshore Sector, their Private Members Bill was duly assented to by the Head of State."
Recently, stevedore workers went on strike when they felt their working conditions were not acceptable anymore. Fishing Boat Owners also protested outside the National Assembly to make the case for their own grievances.
Peter Sinon, Secretary General, referred to a quote from Pope Francis, which said: "Trade Unions have been an essential force for social change, without which a semblance of a decent and humane society is impossible under capitalism."
Mr Sinon went on: "Pope Francis is of course right in his analysis. A lot has been achieved by the struggle of labour unions. The more humane societies of the 21st Century are the ones in quick and constant transition and transformation.
"The new Seychelles Labour Union will take this as well as the emerging issues to ensure that its hard working members are 'Recognized, Respected and fairly Remunerated' for their respective efforts. It is the formula to produce a responsible and productive workforce to propel our economy to further prosperity for all."
He went on: "The growing self-employed having followed the call to 'leve e debrouyer' face considerable obstacles and have thus far been left to fend for themselves. This isolation will persist no longer. SLU will contextualise its operations for the society in which we live. It will bring solutions through concrete, innovative approaches and actions."
Officers and nine executive committee members were elected at the meeting. This founding group of officials will be revisited at the next SLU meeting in December.
The Executive Committee of the SLU are: A. St.Ange, President; H. Anthony, Vice – President; P. Sinon, Secretary General; C. Savy, Treasurer; M-F Marie, Secretary.