High hopes as Regatta aims to raise money for schools water project
6th September 2016
The annual Seychelles Regatta will take place at the Beau Vallon venue from September 30 to October 2.
This charity fund-raising event is being organised by the Round Table Seychelles (RTS).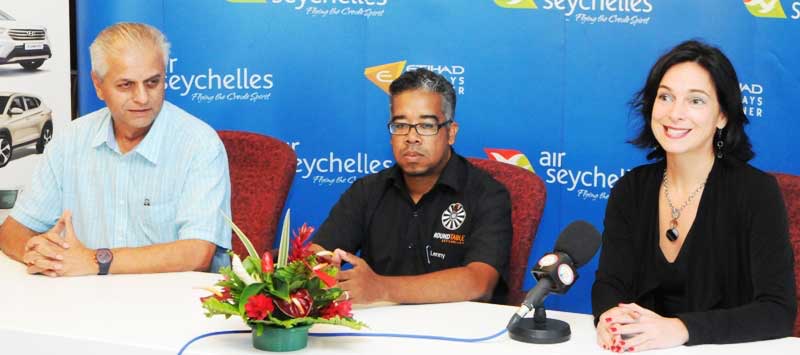 Lenny Gabriel, president of RTS, said: "This event will have several fantastic outcomes. It will bring Seychellois and tourists together for the beach sports activities, an array of concerts and events, such as the Miss Regatta and the traditional Regatta boat race.
"We look forward to having fun and something that will bring good to the society and our children."
Lottery tickets are on sale too. Mr Gabriel went on: "Really attractive prizes are up for grabs."
Air Seychelles and PMC Auto are leading sponsors of the Regatta.
Jayant Mayadas, the PMC and Hyundai representative, said: "We are so happy to once again support Round Table by sponsoring this year's lottery star prize ? a brand new silver Hyundai CRETA compact SUV vehicle."
Maja Gedosev, head of corporate communication for Air Seychelles, said: "Air Seychelles is very proud to partner with RTS on the Regatta 2016.
"This partnership will bring many benefits to all visitors this year as well as the Seychelles community.
"Besides offering ticket prizes for the Regatta lottery and for the Miss Regatta finalists, we will organise a lucky dip at the Air Seychelles VIP stand. Visitors stand a chance to win tickets on regional and domestic routes. We will also offer special Regatta weekend discounts which will go up to 25 per cent.
Air Seychelles, together with RTS, will donate all the proceeds from the Regatta 2016 towards a water fountain project which means public schools in Mahé, La Digue and Praslin will receive standalone drinkable water dispensers.
Maja Gedosev added: "It is a global project between RTS and the Ministry of Education. It is essential to provide water and reduce the use of PET bottles."