Big Four opposition parties unite to fight NA elections after close call with Presidential poll
3rd May 2016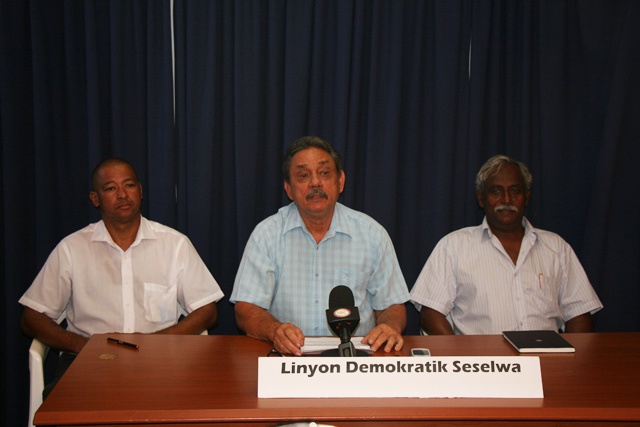 Four opposition parties have joined together in preparation for the parliamentary elections later this year.
The Seychelles National Party (SNP), Lalyans Seselwa (Seychellois Alliance), the Seychelles Party for Social Justice and Democracy (SPSD) and the Seychelles United Party (SUP) will now campaign under the umbrella name of Linyon Demokratik Seselwa, or the Seychellois Democratic Alliance.
The move follows last year's Presidential election when James Michel, the Parti Lepep leader, controversially retained office by 193 votes.
Michel, who this year celebrates 12 years in power, polled a total 31,512 votes (50.15 per cent) to beat Wavel Ramkalawan of the SNP who received 31,319 votes (49.85 per cent).
Political observers said that if the opposition parties had put on a united front with just one candidate instead of six Michel would have been outvoted.
The SNP has meanwhile demanded that the Constitutional Court annul the result citing "irregularities". The court's decision will be announced on May 31.
In a press conference, Linyon Demokratik Seselwa said its first task was to identify representatives who will stand as candidates in the elections.
Party leader Roger Mancienne (SNP) said: "Our leaders have begun discussions to have a common list of candidates, and we have agreed on a good number of them."
Other officers so far named are secretary general Clifford André (Lalyans Seselwa) and treasurer Roy Fonseka (SPSD).
Mr Mancienne wants to see the reclaimed island of Perseverance, which has the largest ongoing social housing project, declared an electoral district. This, he says, will allow the residents to take part in the upcoming elections.
However, President Michel is yet to give his assent to the National Assembly's approval on this move.
Meanwhile, the Electoral Commission has come under fire from Mr Mancienne for its decision to allow another party to register the name Linyon Sanzman which opposition groups had used in the November Presidential election and wanted to retain.
The name has been taken by a former activist of the SNP and Popular Democratic Movement, Martin Aglae.
The Commission said that guided by the Political Parties (Registration and Regulation) Act it had "considered the application that was submitted first, and that is the application of Martin Aglae".