Assumption Island protests break out after Faure signs deal with India
13th February 2018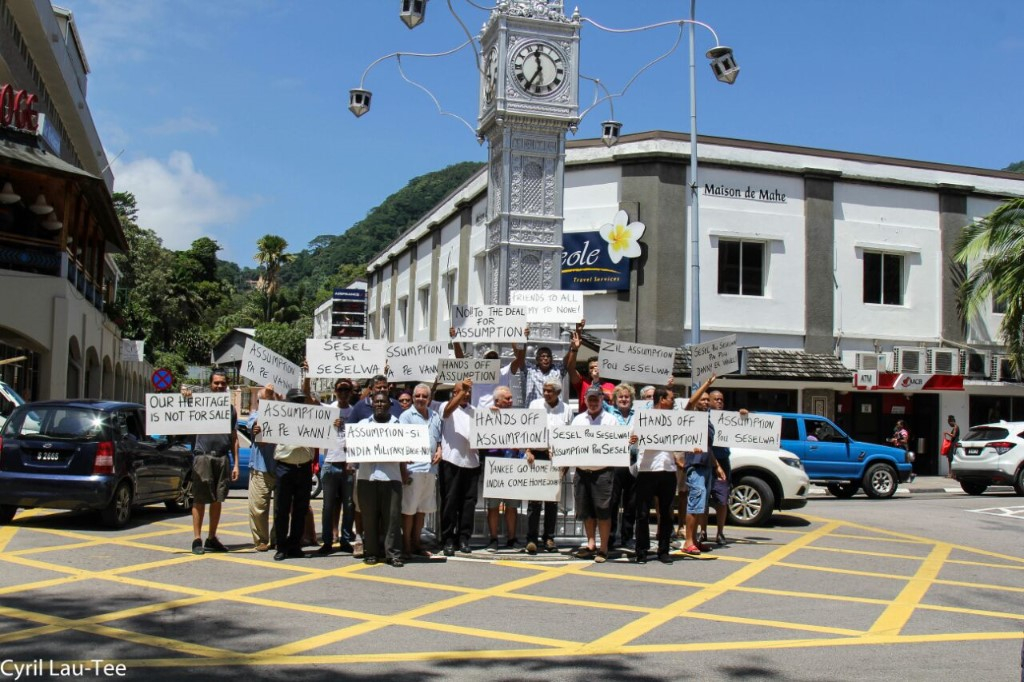 Picture: Courtesy of Cyril Lau Tee
Protests have greeted the decision to allow India to build military facilities and what is said to be a naval base on Assumption Island.
President Danny Faure, who signed the agreement with India's Foreign Secretary S. Jaishankar, said: "This project is of utmost importance to Seychelles, and it attests to the kinship and affinity that exists between our two countries. We are proud to have India as a partner in realising our development aspirations."
However, 50 protesters bearing placards gathered at the Clock Tower in Victoria to oppose the 20-year deal.
One placard read: "Sell coconuts or guano – Do not sell our islands."
Ralph Volcère, editor of The Independent newspaper, had called on "all concerned citizens" to support the demonstration.
He said: "This agreement is not being supported by the people of Seychelles. We do not know any details, what is the arrangement? What are the costs? Our problem is that Seychelles cannot get involved in conflicts of superpowers."
He went on: "We need to remain non-aligned; 'friendly to all – enemy to none', to quote former President James Mancham. This facility will place Seychelles at great risk should a military conflict involving India ever happen.
"We are therefore demanding the National Assembly reject this agreement, when it is finally brought before parliament for ratification."
One demonstrator, Vicky Lanza, said: "Assumption is close to the Aldabra Atoll – which has rich biodiversity, unique plants and animals and an abundance of birds. We need to protect the atoll. Once there is a military base, there will be an element of control and locals will not have access even in the vicinity of the island."
The original agreement was signed by Prime Minister Narendra Modi and the then Seychelles President James Michel in 2015, but, it was not ratified by the Seychelles Parliament. It came at a time when India was attempting to consolidate its presence in the Indian Ocean region in the face of China's rising influence.
In August last year, Mr Faure stated that the agreement had some "issues" and it would have to be re-negotiated again.
The new agreement reportedly states that the infrastructure India has to build includes renovating the airstrip, upgrading the jetty and constructing quarters for the Seychelles Coast Guard. This will allow the island to be used by the Coast Guard as a base to patrol for illegal fishing and drug running.
The agreement clause allows for other countries to use the facilities "subject to concurrence of both parties". There is also a clause to make it clear that India can't use the facilities on Assumption Island during a war.