The grim picture behind the bitter battle to stop drug abuse in Seychelles
1st November 2016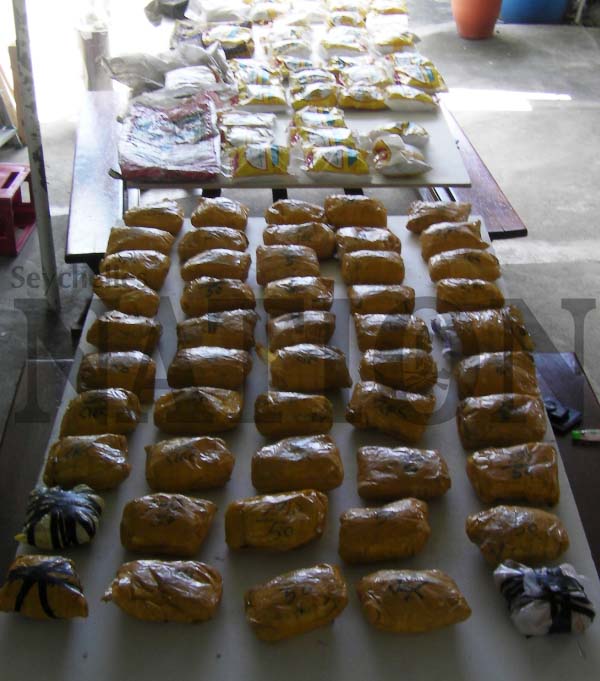 This is part of the repulsive batch of drugs that dealers have been selling on to addicts in Seychelles.
It was seized by a NDEA/Coastguard patrol who stopped a dhow North West of Mahé earlier this year.
Patrol officers discovered heroin weighing 98.5kgs with a Seychelles street value approximately R344 million.
The haul, along with 1,000 exhibits of controlled drugs amounting to 154.6kgs seized by the agency, has now been destroyed by order of the Supreme Court.
It is believed that the coastguards disrupted what appears to have been the second of four attempts to import large quantities of drugs into Seychelles. Three of those attempts have been disrupted and those behind one of the attempts are awaiting trial on conspiracy charges.
Investigations revealed that locally based drug dealers had acquired high speed boats to ferry drugs from craft originating from the eastern Asian coast.
Recent intelligence-driven NDEA operations have resulted in several seizures of assets, cash and drugs.
Officer have seized 23 cars with an approximate value of R4.6 million and 833 arrests have been made this year by the NDEA for drug-related offences. Thirty three of these cases involved importation, trafficking and possession of drugs for sale or supply.
Convictions have included Nosipho Natasha Mavuso, a 25-year-old South African woman who was jailed for nine years for importation of drugs. She was arrested on October 15, 2013 at the Seychelles International Airport in possession of 657 grammes of heroin hidden on her body.
Gerard Mark Solomon Marday, a 51-year-old casual labourer from Les Mamelles was sentenced to five years and fined R20,000, after pleading guilty to two counts of trafficking and one count of conspiracy to commit trafficking.