Seychelles takes the plunge and goes into industrial fishing in a big way
1st December 2014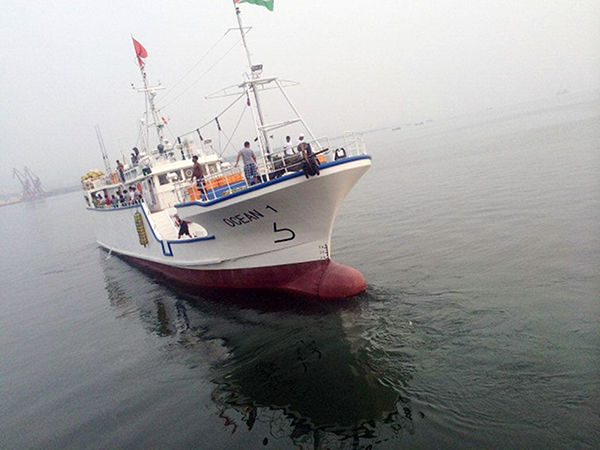 By John Lablache
The warm ocean which bathes the archipelago of the Seychelles has always abounded in fish, but until fairly recently the island nation derived little benefit from this massive resource.
Yet Seychellois are the biggest fish eaters per head of population in the world. Indeed, for most of the islanders, fish is their main source of protein.
For more than a century, fishermen ventured not far beyond the coral reefs, with hand lines and fish traps made of bamboo and came back with demersal fish for the local market.
For much of the last century, the over one million square kilometers of Exclusive Economic Zone ( EEZ) was tapped by foreign fishing vessels, mainly Japanese, Korean and Taiwanese, which caught tuna, marlin, sailfish and other pelagics, while Seychelles benefited little.
The Europeans appeared on the scene in the mid-1980s with large purse seiners, mainly from France and Spain. They were mainly after skipjack tuna, for use in canning factories.
The purse seiners – an average 40 to 50 vessels averaging 3,000 ton boats – have over the years caught an average 230,000 tons of tuna, of which 82 per cent is shipped for processing abroad. The remaining 18 per cent is used by Port Victoria's Indian Ocean Tuna (IOT) cannery.
In 2014, developments have set the stage for the situation to change fast. Seychelles is going into industrial fishing in a big way.
Port Victoria is being transformed from a mainly tuna transshipment hub to a primarily seafood processing centre in the region, with a variety of products.
New fishing ports and back-up facilities have been built on reclaimed land at Ile du Port – a short distance from the main commercial port and at Providence, about 2kms away.
Until this year, there were only about ten locally owned long liners, fishing pelagic mainly for smoking and the export market.
The anticipated increase in long liners called for more extensive facilities.
As such, Ile du Port, the new integrated fisheries logistical base, now boast purse seiner and container areas.
There are also facilities for net repair and salt storage. That means that purse seiners may berth for a while, offload catch for the local cannery, take salt and have their net repairs there.
This will also relieve congestion in central Victoria, caused by trucks transporting tuna, salt or nets.
At Providence, the new facilities are geared for the growth in the long lining fleet.
More berthing quays have been built for the expected increase in long liners.
In August, eight fish processing units were inaugurated by President James Michel. This will allow local processing of fish. They will also reduce wastage and increase utilisation of by-catch and other low-value species. By-catch includes bonito and dorado, while low-value species are mainly mackerel, caught in large quantities by artisanal fishermen using nets inshore.
It is expected that among the new products for the local market and export are burgers, nuggets, sausages and fish fingers.
It is also hoped to use some of the catch of big game fishermen, most of whom are based at the Eden Island yacht marina.
According to the Seychelles Fishing Authority (SFA) Chief Executive Finlay Racombo, about a dozen more long liners are being built in Sri Lankan boatyards – for Seychellois entrepreneurs – with the help of a $10 million line of credit from the Colombo government.
A fleet of 15 larger long liners is also awaited from the Weihei shipyard in Eastern China for Oceana Fisheries.
This local company was last year purchased from its previous owners of 18 years by Russian tycoon Alexander Karmanov, who holds 51 per cent of shares; Seychellois Danny Low Lam has the remaining 49 per cent.
According to a Memorandum of Understanding (MOU) signed with the Seychelles Government, Oceana Fisheries has to ensure availability of fish and fish products, including buying from local fishermen, both for local consumption and for export.
Company's chief executive Cyril Bonnelame said the fleet of long liners, two of which have arrived, will be targeting large pelagic, such as yellowfin and bigeye tunas, marlin and sailfish.
The long liners spin out lines over 15km long, with over 2,000 hooks baited with squid.
He said: "Our fishing operation will be rather selective and a lot more sustainable than the purse seiners."
He noted that 15 long liners will only catch the equivalent of one large purse seiner.
But the big difference is that long liners catch high value fish and not the small skipjack tuna used in canneries.
With a range of up to 60 days at sea, the 37 metre long vessels, can carry a crew of 18, in addition to four security officers. The security is essential as a safeguard against Somali pirates.
Bonnelame said most fish will be bled and cleaned on board, before being blast frozen at -60C to ensure preservation. But fish caught during the last few days of the expedition will be chilled and brought in fresh.
Oceana Fisheries is also renovating and expanding its existing headquarters to include a modern laboratory for quality control of its fish and fish products in accordance with international standards.
The company is seeking to recruit Seychellois employees as deck officers, engine officers and fishermen with long lining experience.
It is hoped that young graduates from the Seychelles maritime training centre will take up the challenge, said Bonnelame although it is likely that a fair share of the crew and fishermen will come from Asia, notably Indonesia.
He added: "I believe that our local business model provides opportunities for other Seychellois and is in line with President James Michel's wish for us to derive maximum benefits from the Blue Economy."
SFA chief Racombo said that as Oceana Fisheries vessels are registered in Port Victoria and flying the Seychelles flag they are permitted to land and process their catch for the local market and for export.
This is unlike South Korean and Taiwanese long lingers operating within the Seychelles EEZ, which take away their entire catch and pay an annual licence of $120,000.
Locally registered vessels such as Oceana's pay a reduced rate of $24,000 yearly, while vessels from member countries of the Indian Ocean Tuna Commission (IOTC) also benefit from concessionary rates.
"We have to manage our fish stocks, with Seychelles-based vessels given priority. We have to maintain an equilibrium," said Racombo, adding that all locally-based fishing ventures have to be submitted and approved by SFA.
Some residents however worry that some demersal fish species such as snapper, grouper and parrot fish are becoming increasingly expensive. Such fish are being targeted by some demersal fishermen for sale to hotels and it is feared that stocks are under threat.