Independence Party success gives hope for the future of Seychelles
30th June 2014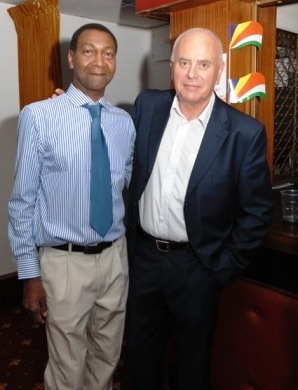 More than 230 Seychellois from all parts of the United Kingdom joined together to celebrate Seychelles 38th Independence Anniversary.
The event, held on Saturday June 28, the eve of our Independence Day anniversary, took the form of an entertainment evening hosted by Seychelles Life and the Kevin Betsy Foundation.
"I think it has been quite a while since we had a turnout of that kind. It was a very encouraging sign for the future of Seychelles and the Seychellois communities in the UK," said Lewis Betsy of Seychelles Life.
He said his main aim for Seychelles Life is to work hard to try to get the Seychellois at home and abroad to work together for the common good of our beloved Seychelles.
"I think we did just that on that June evening. So many Seychellois travelled from all parts of the UK (and France) to have a fun-filled evening that will be remembered for many years to come," said Mr Betsy.
He also thanked the Seychelles high commissioner in the UK, Marie-Pierre Lloyd, for attending as the guest of honour.
"She told me she had enjoyed 'an excellent evening with many long-lost friends and acquaintances'," Mr Betsy said.
He added he was also immensely grateful to John Davies, the publisher of the Woking News and Mail, Knaphill Print, who sponsored the event, and Jonathan Esparon for donating the £200 first prize in the raffle.
Special thanks also goes to all those who attended the event and to everyone else who made the evening such a success.
"I would particularly also like to thank for their fantastic support the UK office of the Seychelles Tourism Board (STB), Samantha Ally, The Golden Shores of Seychelles, Kozkreole, Time Out Seychelles, Rita Romain, Shana Ernest, Mervin Coelho, Cascade Sega Dancers, Afrika Biz, Miss Afrique Fracophone, www.werocklondon.com, and our photographers Marlon Didon and Mike Marain," Mr Betsy said.
He said he is already planning an even better gathering next year "because Seychelles will be celebrating with us".
He wished all the people of Seychelles at home and abroad a happy 38 years of Independence and said hopefully next year we all can celebrate the Independence Day together.
"I believe that if we work together and if we have peace in our way of thinking we can go further," he said.
On a more sombre note, Mr Betsy expressed concern over the increasing abuse of drugs in Seychelles and urged the local authorities to make this issue a priority.
"The situation is getting out of hand and we need to act quickly," he said.