World leaders must think again about tackling terrorism, warns Sir James
5th November 2015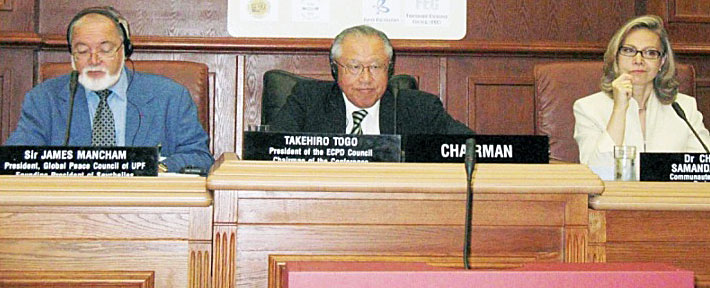 Terrorism cannot be defeated by military means alone, Sir James Mancham has warned.
It was time for world leaders to think again, he told the delegates at MADRID+10, a two-day conference in Spain.
The conference was set up following a terrorist attack at Madrid's Atocha railway station in 2004 in which 191 died.
More than a decade later, extremism and radicalism of fundamental groups are seriously undermining human rights and democratic values.
Sir James said: "The vicious violent conflict figured by extremism – one that could be more damaging and destabilising the global peace than any conflict since the end of the Cold War – could lead much of the world's attention to focus on military solutions.
"However, we believe that consistent with the Madrid Agenda, military means alone, without adequate long-term multi approach strategies and foreign policy, will not be sufficient in dealing with the multi conflicts, causes, and extremist ideology that have produced the current situation.
"Thus, it is time for world leaders, opinion formers and experts from different backgrounds and parts of the world to come together to analyse the drivers of conflicts, change the debates and agree on what needs to be done and commit to a plan of action."
The conference – Preventing and Countering Violence Extremism – was organised by Le Club de Madrid in association with the International Centre of Radicalisation and Political Violence. Sir James is one of some 90 distinguished former leaders of democratic nations who belong to Le Club de Madrid .
The conference was officially opened by the King Felipe VI of Spain, while UN Secretary-General Ban Ki-moon gave a keynote address.
Earlier in Belgrade, Serbia, where he was co-chairing a conference on globalisation, Sir James was presented with a testimonial from the Educational and Scientific Board of European Centre for Peace and Development "in recognition of his exceptional and dedicated contribution to Peace, Reconciliation, Religious Tolerance, Rational Harmony and Human Rights in the Balkans and around the world".