Woman who chaired Seychelles seminar in airport tragedy
5th November 2015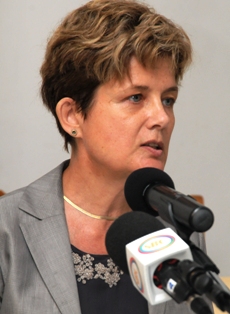 A journalist who chaired a two-day seminar in Seychelles on reporting judicial and police investigations in the media has been found dead.
Jacky Sutton, 50, was the acting Iraq director for the Institute for War and Peace Reporting (IWPR).
Russian tourists found her body in a toilet cubicle at Istanbul's Ataturk Airport. She had been on her way to Erbil, Iraq.
There had been speculation about her death but Ms Sutton's sister, Jenny, said: "At this stage we believe that Jacky acted alone."
She added in a statement that there remained "the possibility that additional information will come to light".
Ms Sutton, who spoke five languages, worked for the BBC World Service between 1998 and 2000, and also served in senior roles at the United Nations. She was studying for a PhD at the Centre for Arab and Islamic Studies at the Australian National University and had been carrying out field work in Erbil since July.
Ms Sutton was in Seychelles in April. Her seminar, which was attended by local journalists from several media houses, was organised by the Seychelles Media Commission in conjunction with the United Nations Development Programme.
She was returning to Iraq after attending a memorial in London for her IWPR predecessor who was killed in a car bomb attack in Baghdad five months ago. The IWPR, a London-based non-profit media organisation which supports local journalism in countries affected by conflict and crisis, said Ms Sutton was "universally loved".