Unique award for dedicated Mariola Betsy, the longest serving health professional in Seychelles
16th April 2018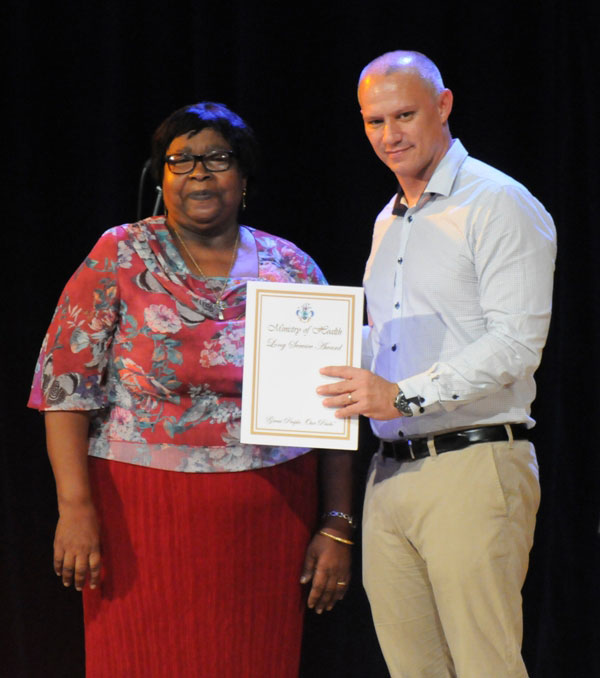 A nurse who devoted herself to the welfare of others for 54 years has been singularly honoured.
Mariola Betsy is the longest serving health professional in Seychelles and was presented with a prestige award for her unique long service.
She was honoured at a ceremony, which also fittingly celebrated World Health Day and Health Workers' Day, at the International Conference Centre of Seychelles.
Guests there included the Speaker of the National Assembly Nicholas Prea and the President of the Court of Appeal Justice Francis McGregor.
The award was presented by Health Minister Jean-Paul Adam.
Mariola said she was elated at receiving the award and thanked her colleagues for their support over the years.
"I am so happy to have received this award and it has surely been possible because of all my colleagues," she said.
"I wish to congratulate all the other health workers who are also celebrating long years of service. We were able to do it because of the passion for our job and our desires to put the needs of our patients first."
Mariola, who started work in 1964 and trained to treat patients suffering from tuberculosis, said her greatest joy was to see people back on their feet after illness.
She added: "You need to have a passion for the profession and work with your heart in order to remain true and committed to it for so many years.
Mariola has held various senior nursing positions and since 2014 has been with the Red Roof as a customer relations manager.
Mariola is the sister of Lewis Betsy, publisher of Seychelles Life, and he is delighted at her accolade. He said: "My sister has worked very hard and she fully deserves to receive the award as the longest serving health worker in Seychelles' history.
"I would like to wish her success in her retirement which I think she has genuinely earned."
He added: "We come from a family of 12. Two died at early age and the rest of the family are not all in Seychelles but scattered around the world in the UK, France, and America."
Other health professionals honoured at the ceremony included Marie-Ange Michel, nurse manager at the Oncology Unit, who has put in 45 years of service. Marie Bernadette Faure, a health care assistant at the North East Point Hospital and Hospice, won the Person-Centred Care Award. Farida Cupidon, a nurse working at the home for the elderly, took 2nd place and Vania Arrisol, a post-natal nurse, was 3rd.
Health Minister Jean-Paul Adam was full of praise for the profession.
"I thank and congratulate every health worker, past and present, for whom health work remains a lifetime labour of love," he said.