Travel show promotion is a "great success" for Seychelles
25th February 2016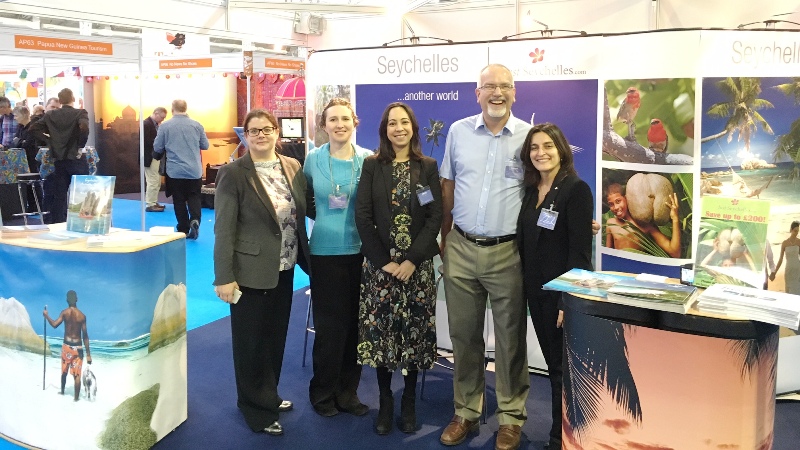 A joint effort by the Seychelles Tourism Board (STB) and a British travel firm at one of the biggest holiday shows in Europe has been acclaimed "a great success".
The STB linked up with Just Destinations, a Seychelles specialist company, for Destinations: the Holiday & Travel Show at Olympia Hall in London.
Fred Harrison, product development manager at Just Destinations, was delighted to be "on hand to offer expert advice to customers".
The team at the Seychelles stand had a "wealth of knowledge and a choice of hand-picked hotels to suit all budgets and occasions".
Mr Harrison went on: "The show was a great success and we look forward to assisting future travellers with their once-in-a-lifetime trip to the Seychelles."
The Seychelles stand was manned by Tinaz Wadia and Eloise Vidot from the STB, Mr Harrison with Martin Bamford and the sales team from Just Destinations and Sam Ford from Ste Anne Resort (Beachcomber).
Ms Wadia said: "Destinations has always proven to be a popular travel show attracting a wide number of consumers.
"Partnering with Just Destinations proved fruitful especially as they had prepared special 'show only' flyers for distribution which provided the call to action for last-minute bookers. With January and February proving to be prime booking months for the UK, the show provided much interest and inspiration for those wishing to travel to the Seychelles this year."
She added: "The Seychelles has noticed a visible growth in passenger arrivals from the UK closing with an increase of 32 per cent at the end of 2015."
The show, in association with The Times, The Sunday Times and Sunday Times Travel Magazine, is now in its 22nd year and is the UK's biggest consumer event with more than 350 exhibitors and 38,000 visitors.
Rob Debenham, show manager, said: "The show is a 'must-visit' event for anyone interested in holidays and travel, with the UK's biggest choice of travel ideas from leading and independent travel companies."