Tourism Minister checks out the challenges facing small hotels in Seychelles
8th June 2018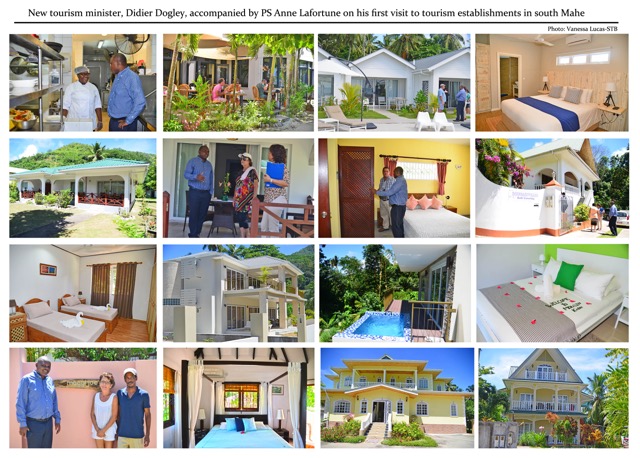 Didier Dogley, the new Minister for Tourism, believes in doing his own research. He visited eight small hotels in South Mahé to see how they operate.
He said: "I believe it is important for me to understand the situation on the ground, to understand what they are doing well, and the challenges they face."
In keeping up with the practice adopted by his predecessors, Mr Dogley started at Pied dans L'eau self-catering in the Anse Royale district, the Coco Blanche self-catering and Le Nautique Luxury Beachfront Apartments.
His delegation also visited Surfers self-catering at Anse Parnel, Bougainvillea and Chalet Bougainville at Bougainville, as well as Moulin Kann Villas and Captain's Villa at Anse Forbans.
The hoteliers briefed the minister on their achievements and challenges. They reported a high rate of occupancy throughout the year, ranging from 65 to 98 percent. This, they said, was a clear indication that Seychelles remains a much appreciated destination.
Their common concerns including the increased problem of drug users in the Anse Royale district and associated petty crimes, challenges in employing local staff, and stray dogs.
The hoteliers also made some recommendations for the minister's consideration including the need for public toilets.
Mr Dogley has said that he will be making more visits to hotels, not only on Mahé, but also on Praslin and La Digue.
Meanwhile, tourism should get a boost now Air France has returned to Seychelles through Joon, its new sister airline.
Joon's direct flights to Paris three times a week started on May 5, marking the return of Air France to Seychelles after a 22-year absence.
The airline's Airbus A340 was greeted with a water canon salute as it touched down at the international airport.
"We are very pleased to be back," said Henri Hourcade of Air France KLM.
Bernadette Willemin, Seychelles Tourism Board's Regional Director for Europe, said: "The arrival of Joon is good news."