Tourism officers in global showcase for Seychelles growing industry
29th November 2016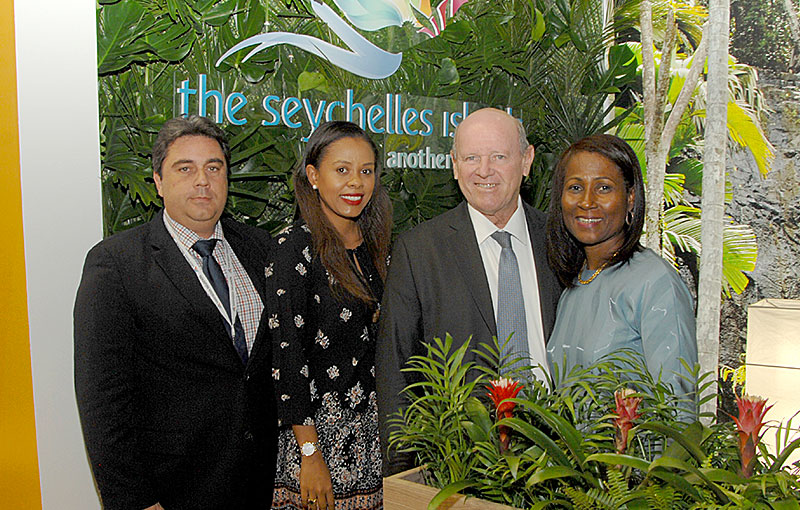 Seychelles tourism officers turned out in force for one of the biggest showcases in the globe, the World Travel Market (WTM) in London.
They were aiming to build on Seychelles' increasingly successful tourism industry.
There has been a gradual rise in the number of tourist visiting Seychelles from the UK over the past few years with the market experiencing a 14 per cent increase compared to same time last year.
Seychelles had its own destination stand covering a space of 100sqm at the WTM and on the opening day Alain St.Ange, Minister for Tourism, was joined by Mrs Marie Pierre Lloyd, the High Commissioner for the Republic of Seychelles based in London.
Now in its 37th year, the event generates more than £ 2.5 billion worth of travel industry contracts.
It means that getting everything just right is key.
The WTM provides a unique opportunity for the whole global travel trade to meet, network, negotiate and conduct business.
More than 50,000 senior travel industry professionals, Government Ministers, and international press visit the three-day show each year to network, negotiate and discover the latest trends and industry opinions.
Also in the delegation with Mr St.Ange and the CEO, Ms Sherin Francis, were the following companies and representatives: 7 South – Mrs Anna Butler Payette, Creole Travel Services – Mr Guillaume Albert and Ms Blaisila Hoffman, Masons Travel – Mr Lenny Alvis, Air Seychelles – Mr Maja Gedosev and Mrs Christine Ozouf, Coral Strand Smart Hotel and Savoy Seychelles Resort and Spa – Mr Denis Verkhoruvov, Mr Ravil Zaripov and Mrs Katerina Ferguson, Coco De Mer Hotel & Black Parrot Suites – Mr Ash Behari, Berjaya Hotels Seychelles – Ms Wendy Tan, Hilton Seychelles – Mrs Devi Pentamah & Ms Britta Krug, Kempinski Seychelles Resort and Spa – Mr Simone Berti, Eden Bleu – Mr Manuel Policarpo and Ms Celia Ponzo, Raffles Praslin – Mr Joerg Roterberg.
The Seychelles Tourism Board delegation also included Regional Director Europe – Mrs Bernadette Willemin, Seychelles Tourism Board Manager, UK & Ireland – Ms Tinaz Wadia, Seychelles Tourism Board Marketing Executive UK and Ireland – Ms Eloise Vidot, Senior Marketing Executive - STB head office – Ms Stephanie Lablache and Manager – Emarketing - STB head office – Mr Vahid Jacob.