Thanks and good night... soccer star Kevin Betsy retires at 37
29th April 2015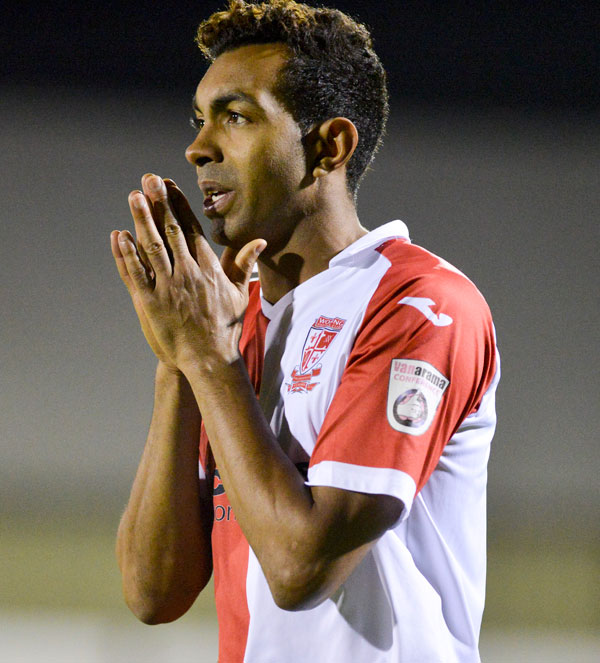 Seychelles-born soccer star Kevin Betsy, 37, retires this season after 18 years in English League Football. It has been an incredible career with starring appearances in top English clubs including Fulham, Barnsley, Bristol City, Oldham Athletic, Wycombe Wanderers and Southend, as well as playing for the Seychelles national team. He started with Woking in 1997 and it was with Woking that he played his last professional game. Here, he tells us about his marvellous times on the pitch playing the game he loves so much...
You nearly retired last year, but stopped. Why?
Yes, my mind was made up to finish at the end of last season. I keep telling Woking manager Garry Hill he could sell ice to the Eskimos and he changed my mind.
To stop playing football will leave a huge hole in my life as I love the game so much. Knowing your future and doing something you enjoy to replace the void left is important. I've seen so many ex-professionals who have really struggled with the transition and I do not intend to follow this trend. I decided to announce it as did not want anyone trying to change my mind.
I injured ligaments in my knee last year, resulting in the first operation of my career and this really affected me. I've been nowhere near my individual level this season despite my contribution to the team performing well. You have to know when the time has come to say thanks and good night.
You played in the Conference League in two different eras – how has it changed and are both as enjoyable?
It has changed because as a fresh-faced teenager playing for the Woking first team was a big deal and I was trying to change my life through football. Returning has been great as it's a kind of fairytale. I feel I have completed a full circle to come back and play for the club that gave me my chance.
It has been sad to think I am finishing at this point but I'm over the moon I am doing it here. Nothing has changed in terms of the league, a few different faces but the same amazing loyal fans at our club and in the league.
What do you think you will miss most when you finish?
Everything. It's a fantastic job, representing a club and having the support of thousands of people who would want to be in your shoes. You try to make them enjoy their match experience. It's the best job in the world.
Do you have any thoughts of staying in the game through coaching or, even, management?
Yes, coaching has been my third love behind my family and playing. I have been working at a fantastic club in Fulham for the past six years alongside some of the county's top youth developers in football. I have and will continue to travel the world in various sports to continue my own personal development and most importantly the players I work with.
I have attained my badges, and passed my degree with 1st class honours but essentially it is all about learning how to teach and develop the style of young players using the skills I have amassed.
If, and when, I decide to go into management I have no doubt I will be ready and have the rounded skill set. I need to be successful. Perhaps not enough ex-players prep for the future life. Some may not need to, and their name may mean them being given the opportunity without really deserving or when they are not ready. It's a different field to playing. I work six days a week, not like the life of a pro footballer. I am in the real world now.
You have done much to encourage sport in Seychelles. What has been the response?
I was born in Seychelles with a population of around 100,000 and I became the first person born on the islands to ever play in the Premier League. This comes with quite a responsibility as I've found that I became a role model to many youngsters.
Having been there on numerous occasions, it struck me that there was a real hotbed of talent in the country. All that was needed was some help with structure and giving the children hope that their aspirations could be achieved.
I used to travel back with equipment and kit donations for the football clubs and local schools and I put on a few coaching sessions.
I aim to do more as I will have more time to help. Through the help of the Professional Football Association, we set up The Kevin Betsy Foundation and have been charity registered for the past three years. We aim to be a positive influence on local communities and the country.
What was the biggest highlight of your career?
My professional debut at Anfield when Fulham played Liverpool.
What is the biggest regret?
I had a disagreement with a manager over selection. The manager was new into the job. I was top goal scorer and loving my football and playing well. He had just signed a new player in my position and he wanted to put me on the bench for a game. I expressed my feelings like my little boy would tantrum. I was bigger than my boots, quite literally, In the end the manager always wins and he managed to get me out of the club after a few months not playing. I was among the top earners so this probably added to his decision. I had to rebuild my career. In hindsight I should have just shut my mouth and shown no emotion to his decision. I have met the manager in question very recently and we are on good terms now. There are no hard feelings – life is too short. To be honest to this day, I still struggle not to show my emotions when it comes to football. I'm still growing my personality. But at least it shows passion.
What would be your advice to any youngster wanting to progress in football?
Sacrifice is essential. Work harder than the next guy and dreams can be achieved. Lastly, be prepared for bad times and disappointment, for it's dealing with these moments that will shape how far you can go.
Picture: David Holmes