Team Seychelles put belief in Commonwealth triumph
30th July 2014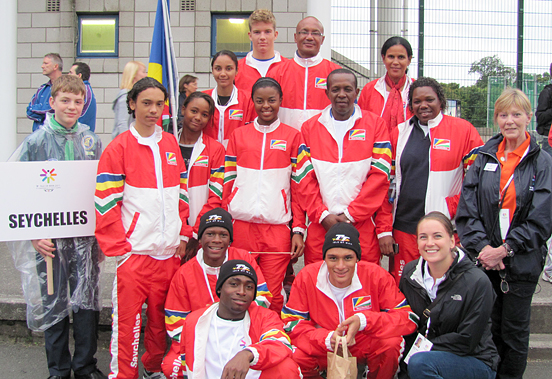 Team Seychelles are hoping for success at the XX Commonwealth Games in Scotland after taking their biggest squad there.
The Seychelles delegation arrived in Glasgow on Sunday night led by Social Affairs, Community Development and Sports Minister Vincent Meriton.
The Seychellois athletes will be taking part in a record nine of the 19 sports to be contested by 6,500 athletes up to 3rd August. They will compete in athletics, badminton, boxing, cycling, judo, squash, swimming, table tennis and weightlifting.
Seychelles has taken part in the Commonwealth Games since 1990 but has never won the gold medal. Team Seychelles 2014 hope to change that.
They are:
Athletics: Neddy Marie, Dean William, Leeroy Henriette, Lissa Labiche, Joanne Loutoy, Andy Labrosse and Jean-Paul Juliette (athletes), Maurice Camille, Carlos Sanchez and Terry Volcère (coaches), Lucia Banane (official).
Badminton: Steve Malcouzane, Kervin Ghislain, Georgie Cupidon, Juliette Ah-Wan and Alisen Camille (athletes), Calix Francourt (coach), Tukebana Bau (official).
Boxing: Keddy Agnes and Andrique Allisop (athletes), Rival Payet (coach), Herve Anthony (official).
Cycling: Dominic Arrisol, Edward Pothin and Chris Germain (athletes), Lucas Georges (coach), Lita Denis (official).
Judo: Leslie Philoe, Naddy Jeanne, Dominic Dugasse and Brigitte Rose (athletes), Calix Cesar (coach).
Squash: Eva Alphonse and Ridvan Prosper (athletes), Rene Durup (coach), Nigel Pillay (official).
Swimming: Adam Viktora, Dean Hoffman and Felicity Passon (athletes), Paul Fanchette (coach), David Vidot (official).
Table Tennis: Godfrey Sultan, Nicholas Esther, Dario Laurence, Anniessa Benstrong and Laura Sinon (athletes), David Low-Thion and Peter Youpa (coaches)
Weightlifting: Terrence Dixie, Rick Confiance, Ruby Malvina, Janet Georges and Clementina Agricole (athletes), William Dixie and Reginald Estro (coaches), Barbara Hoareau (official).
The official delegation is: Minister Vincent Meriton (Minister for Sports), Antonio Gopal (Socga president), Alain Alcindor (Socga secretary general), Denis Rose (principal secretary for Sports), Hughes Adam (chef de mission), Mary Banane (general team manager), Dr Kenneth Sherwin (chief sports doctor), Dr Julie Shamlaye (sports doctor), Radley O'Sullivan (physiotherapist) and Luke Smith (physiotherapist).
Earlier, sports ministers from 53 countries had met in Glasgow to explore ways to promote development and peace through sport. Commonwealth Secretary-General Kamalesh Sharma said: "There are great benefits from investing in sport and physical education. Sport is an important tool for advancing education, gender equality and youth empowerment, and can ensure social inclusion for minority and marginalised groups, such as people with disabilities."