Seychelles links up with British Airways to boost tourism
27th November 2017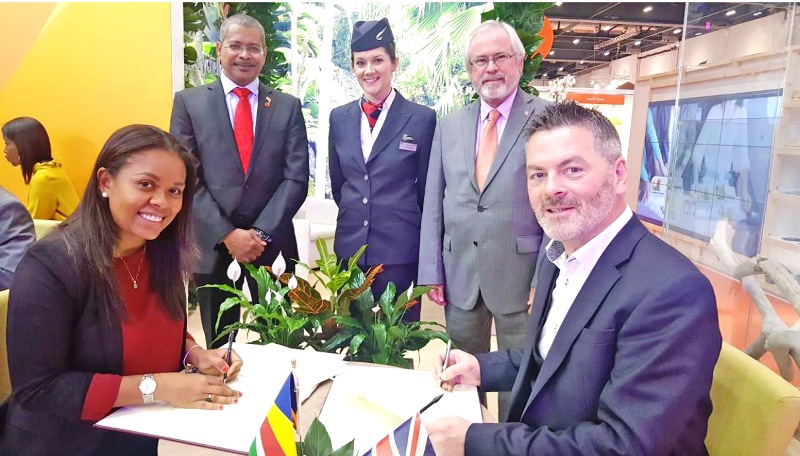 The tourist industry is set to be boosted with a special link-up between the Seychelles Tourism Board and British Airways.
The two signed up to a two-year agreement to jointly market and promote Seychelles and support British Airways' flights to the islands.
British Airways will be resuming flights to Seychelles next Spring, after an absence of over a decade.
The tourist board's chief executive Sherin Francis said: "The British Airways' return will be a big boost for our already buoyant UK and Ireland market.
"Given it will fly out of London Heathrow it will provide a further boost to our US market and other European markets.
"Joining BA's already strong marketing team will definitely help strengthen our presence on these markets."
The deal was signed by Mrs Francis with Chris Rankin, BA's head of agency and consumer sales, at the World Travel Market in London. Also there was the Minister for Tourism, Maurice Loustau-Lalanne, Derick Ally, High Commissioner to the United Kingdom, the tourist board's regional director for Europe, Bernadette Willemin, director for UK & Ireland, Christine Vel, marketing executives Eloise Vidot and Myra Fanchette, as well as Rajinder Johal, representing British Airways.
British Airways will be resuming flights to Seychelles on March 24, 2018. It will operate non-stop, twice-weekly flights from London Heathrow, using its newest fleet of aircraft, the Boeing 787-9 Dreamliner. The flights will be from London Heathrow on Wednesdays and Saturdays, returning on Thursdays and Sundays.