Seychelles hero Gerard Hoarau to be remembered in Mass
17th October 2019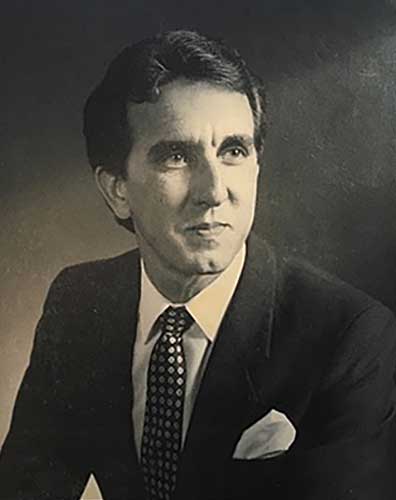 By Lewis Betsy
Seychellois in the United Kingdom will once again have the opportunity to honour the memory of a hero of democracy, Gerard Hoarau.
Tributes to him – and to other Seychellois who lost their lives after the 1977 coup – will be paid at a special Mass.
The service will be at the Roman Catholic Church of St Vincent de Paul, Osterley, Isleworth, Middlesex TW7 4AJ at 6.00 pm on Sunday 1st December, 2019.
The Mass for Gerard has been held every year since he was assassinated on 29th November 1985 outside his house in Edgware, London.
I had the honour of being able to arrange the UK services, and devoutly hope that a similar Mass may soon be held in Seychelles.
Gerard had studied theology at the University of Rome, was fluent in four languages and served his homeland in various capacities. He was Chief Protocol Officer, Chief Immigration Officer, captain of the Seychelles national team and player/Coach of the Rovers Football Club which was founded by Robert Frichot, Gonzague D'Offay and Pat Laporte.
After he fled from Seychelles to Britain, he formed the Seychellois National Movement in 1984 with the aim of returning freedom and democracy to his homeland.
Gerard's family and friends still seek justice for his death and last year there was hope that those responsible would be brought to justice.
Ex-private detective Ian Withers, who has admitted spying on exiles for the government of President Albert Rene, was arrested in Northern Ireland, and flown to London for questioning about the murder. Mr Withers, 77, who denies any involvement or knowledge of Gerard's murder, was released without charge.
The Metropolitan Police said: "The 77-year-old man remains released under investigation."
A number of people were previously arrested in connection with the investigation but no one has been charged with murder.
I was a personal friend of Gerard as well as a fellow footballer, and I too was imprisoned without charge and had to seek a new life overseas with my family. I had the opportunity to give an account of my life at that terrible time to the Truth and Reconciliation Commission in Seychelles earlier this month.
I believe it is vital that we keep alive the memory of all those who died supporting democracy in Seychelles. That is why the Mass held annually in the UK is so significant. It is something that not only honours Gerard and others like him, but unites us as a community in exile.
I would eventually like to see a full service for these heroes held in Seychelles. But I want this Mass to be seen as a banner of unity too. I hope that while we may not be able to forget the terror of the past years we can forgive and so bring reconciliation to our people.
I want these services to reach out to everyone. I want them to help the people of Seychelles work together for peace in our beloved islands.