Seychelles and Germany 'enjoy excellent cooperation'
31st March 2016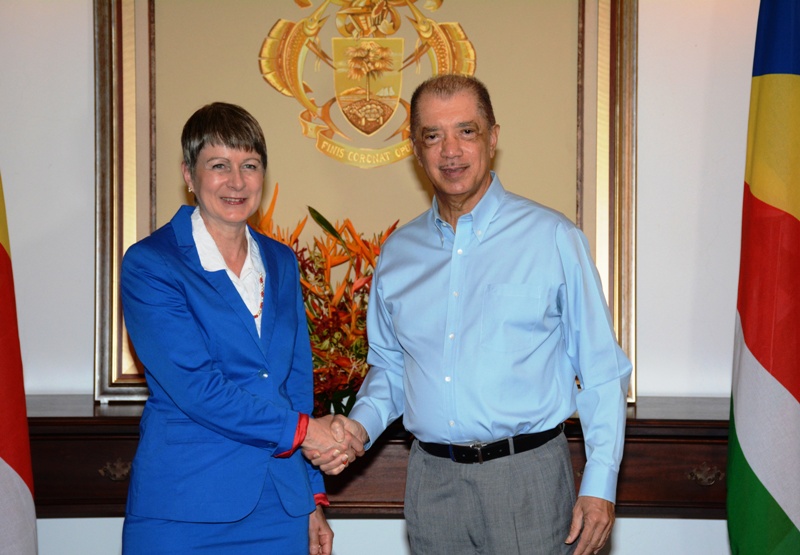 The "excellent cooperation" between Seychelles and Germany has been emphasised by the new German Ambassador.
Jutta Frasch presented her credentials to President James Michel at State House where they discussed their mutual interests in extending the relations that exist between the two countries in maritime security – particularly in the fight against piracy and the stabilisation of Somalia – as well as trade and tourism.
They also spoke about new avenues of cooperation in aviation, the Blue Economy and fisheries.
Ambassador Frasch, who is based in Nairobi, said: "A very important part of our cooperation is security in the area and that is the fight against piracy where the EU, of which Germany is an important part, and the Seychelles have excellent cooperation over the last years.
"Without security there's nothing. I understand that Seychelles is an important partner in the state building process of Somalia where Germany is extremely engaged. The insecurity in Somalia is one of the causes of migration in Somalia."
Ambassador Frasch went on: "We have many areas of cooperation. There's also trade which can be extended; there's a vast potential for it. Seychelles is going to increase the capacity of the port here in Victoria and I think German companies could help very well in doing this project which is going to be co-financed by the European Investment bank. I think that there are so many areas that we're going to work together again."