Seeing the wonders of the sea through a glass-bottom boat
13th November 2018
By John Lablache
Seychelles' tiny capital, Victoria, is sheltered from the Indian Ocean by a string of islands which also constitute the Ste Anne Marine Park, one of the archipelago's main tourist attractions.
The marine park, 4 km from the main island of Mahe, in 1973 became the first protected marine area in the Indian Ocean and is so named after Ste Anne, the largest of six islands. They all boast pristine coral reefs, and are habitats to well over 150 types of colourful fish, including the butterfly and parrot fish, as well as other marine life, mainly turtles and corals.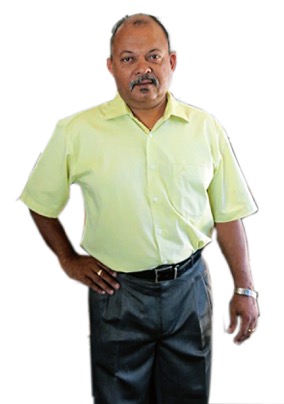 Patrick Labrosse, Manager of the Marine Charter Association, has two glass-bottom boats taking visitors out daily to the marine park.
It is deemed that the best way to appreciate the marine wonders is a day's excursion by glass-bottom boat, through which one can see shoals of colourful fish and corals of differing hues.
They are called "Calypso", after the vessel of the late French undersea explorer, Jacques Yves Cousteau. The smaller vessel, which Patrick has owned for 20 years, seats just eight passengers and is ideal for families and small groups. It was recently joined by the "Calypso Papi", a 30-seater.
Steaming out of the Marine Charter Jetty after 9am, visitors go past the harbour shipping and the lighthouse guarding its entrance. Further out, visitors enjoy panoramic views of Mahe and the smaller islands.
These include two islands, where "Calypso" takes its clients. Moyenne is the only island of the group open to day-trip visitors. Despite its size, it is an environmental treasure trove. Half of its 40 endemic plants are unique to Seychelles, including the Coco de Mer palm, which produces the world's largest seed.
Moyenne also has a population of more than 2,000 birds and 100 giant land tortoises which roam freely. Perhaps pirates were the earliest human inhabitants and graves of mysterious origin may date from this era.
It is off Moyenne that Labrosse takes visitors to "feed the fish", attracting hundreds of the small sergeant, a striped black and white fish, with bread crumbs and gives the visitors their first snorkeling experience.
Cerf Island is where the "Calypso" boats stop for picnic lunches of creole cuisine at the "Island Hopper Restaurant".
"It is not gourmet living, but we sure provide for the island-life expectations of our clients," said Labrosse.
The sea around Cerf is also ideal for snorkeling with a myriad of colourful eye-catching corals and friendly fish.
For Jan Pudil and his daughter, Iveta, who hail from the Czech capital of Prague, it was their first undersea experience in the tropics. "We were thrilled by the marine life, especially the colourful fish and corals," Jan said.
German visitor Brandt Udo, who stayed at the 5-star Constance Ephelia, on Mahe's west coast, could have gone to the neighbouring Baie Ternay Marine Park, the other protected marine area. "But, we chose this one. We think it was better and it appears we were not mistaken."
The charge for a full day's excursion is 75 euros (1200 Seychelles rupees) going by "Calypso". This includes a 200 rupee fee charged by the Marine Parks Authority on every foreign visitor and another 50 rupees for landing on Moyenne island.
This is less than what is charged by most of the other dozen or so other operators.
Other activities available from the Marine Charter jetty include sunset sailing, scuba diving and deep sea fishing.
However, as far as the marine parks are concerned, fishing is forbidden, as is collecting shells and corals.
Visitors are advised to "take away nothing but photographs and memories".
Labrosse says he does not deal with the large tour operators and receives most clients from guesthouses. "Publicity is also by word of mouth and I guess being here at the Marine Charter jetty all day is also a big plus."