Pride and sadness as the Gerard Hoarau Foundation is launched
2nd December 2021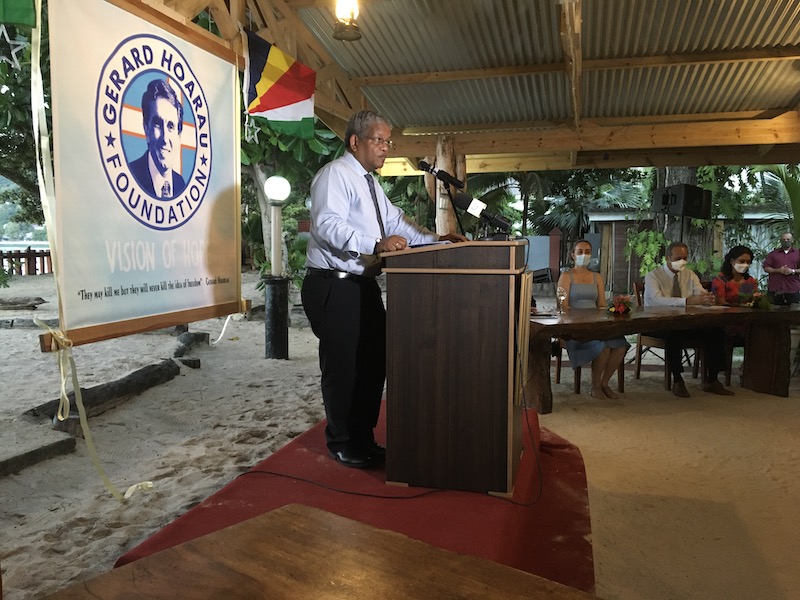 By Lewis Betsy
The Gerard Hoarau Foundation was launched in an emotional ceremony at Beau Vallon that was marked by both pride and sadness. Pride that Gerard's efforts and sacrifice are at last being recognised in his homeland. Sadness that he was taken from us at such at an early age and cannot be part of the generation helping rebuild Seychelles.
Wavel Ramkalawan, the President of Seychelles, who was guest of honour, gave a warm speech that honoured the memory of my friend Gerard, and I was pleased to see other key political figures at the launch. I am vice-chairman of the Foundation which has been set up to not only recognise and pay tribute to Gerard, who was assassinated in exile in London in 1985, but to further his aspirations of peace and harmony in the community.
A few days earlier, we had celebrated a Mass in Seychelles for Gerard and all the other patriots who lost their lives at a time when democracy and equality were denied to them. That service too was a step forward in that we were able to pay our respects to these heroes in the land of their birth. It is because of them that today Seychelles is in a better place.
These are my words from the Foundation's launch booklet:
Today is an important day for all of us, particularly the Hoarau family, as we join together for the launching of the Gerard Hoarau Foundation here in Seychelles.
This Foundation aims to be a guiding and shining light for Seychelles and can play an important role in the future of our country.
Gerard and his fellow believers in democracy paid a heavy price for their devotion and love of Seychelles. And as long as I live I will always remind the people of Seychelles of the sacrifices they made to free our islands from the brutal Marxist dictatorship of France Albert Rene.
It is through their efforts that after all those terrible years we can now celebrate the first anniversary of the change of Government in Seychelles and the blossoming of real Multi-Party Democracy.
Today, I am proud to be part of this Foundation and be able to pass on the knowledge that I learned from my good friend Gerard. I believe it is my duty to deliver his message of hope to the people of Seychelles, especially the younger generation.
Gerard should be respected for his discipline, vision, way of life and courage.
We grew up together whilst he was staying at Forest Noire and I was staying at Hermitage Mont Fleuri. We became very close when he returned from Rome after studying to become a priest.
In the early 70s Rangers and Rovers were the only two rivals in football.
I was then playing for Rangers and he asked me to join him at Rovers, a team that he took over from Gonzague D'Offay, Pat Laporte and others.
It was the beginning of change in Seychelles football. That call from Gerard was the beginning of our friendship with Tony Hoarau, Max Racombo, Colin Whiting, Charlie Alcindor and others.
Every Sunday afternoons we use to go round Mahé. Life was very different then. In truth, it was fantastic. Football was our major pastime and, trust me, we were very good at it.
Then on 15th November 1979 myself, Max Racombo, Gerard, Pat Barallon, Paul Chow and other Rovers Committee members were arrested and detained at Young Vale Prison. Some were kept for more than nine months in Rene's prison. I spent three months there.
It all started, strangely enough, because we did not want to take part in the zoning of football. Zoning meant that if you lived in a particular district you had to play football for that district only. We at Rovers Football Club made it loud and clear that we were not going to take part in that. We protested that it would destroy the standard of football… and we were right.
It was a real mess. The standard of football started to drop and we did not take part.
I can say that the discipline Gerard instilled in all the Rovers players made us what we are today.
Gerard certainly had the magic touch. When my son Kevin was born on 20th November 1978, Gerard gave him a gift of a football and told me: "Make sure he becomes a footballer."
Kevin has played at the top level in English clubs, represented the Seychelles and is now managing the Under 23-team at top London football club, Arsenal.
Gerard, you were so right. Thank you.
Talking of football excellence, what a great result for Seychelles in the Mahinda Rajapaksa Cup 2021 in Sri Lanka. They were regarded as the weakest team in the four-nation tournament, but went on to the final where they defeated hosts Sri Lanka 6-4 on penalties.
It is our national team's first tournament success since 2011 when they won the Indian Ocean Island Games gold medal. So, well done to all the players, head coach Vivian Bothe and team manager, Michael Delpeche.
And Seychelles football has taken another step forward. I want to praise the British High Commissioner Patrick Lynch for his efforts in introducing the Seychelles Schools Premier League. This is a collaboration with the British Government in which ten teams of boys under 15 in Mahe will be "paired" with professional teams in the English Premier League.
It is an excellent initiative. It has motivated the youngsters and it is wonderful to see the parents getting involved and turning out to watch their children playing.
I am confident that in three to four years the standard of football will start rising again. Those who love football should join forces together to make sure that we can achieve that golden goal of excellence.
The Premier League is just one venture which we need in Seychelles to inspire young people. We should consider more. But there is something else.
We also need to protect our young people. There are temptations now too prevalent in Seychelles society that are endangering the health and lives of the young and, in the end, damaging society
Here, the Foundation can be a power for good. We will do our best to nurture projects that will shape and guide the lives of Seychellois, young and old, for the betterment of all.
We have hope in our hearts that from the dreadful event of November 1985 the legacy of Gerard Hoarau will be one of love and optimism. I would like to think that the Foundation will live up to his noble calling and that he would give us his blessing to maintain our march forward… and achieve the best for our beloved islands.