President Faure full of warmth for the 'special bond' between Seychelles and Mauritius
31st October 2017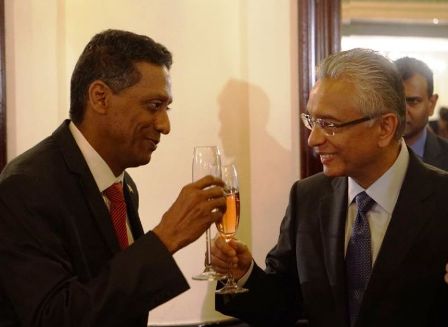 The warmth of the relationship between Mauritius and Seychelles went up several notches during President Danny Faure's State visit.
Mr Faure told a State banquet: "Our two nations continue to share a special bond built on our affinity and common heritage as sister island nations."
Mauritius Prime Minister Pravind Jugnauth said Mr Faure's visit was testimony of the countries' deep mutual respect and friendship.
The two shared the same values, way of life, respect of human rights and the desire to preserve the natural beauty of the two islands, he said.
Mr Jugnauth went on: "The fact that we can communicate in Creole is an example of the strong linguistic and cultural affinity we share."
President Faure had inspected a guard of honour, met Mauritian dignitaries, and been honoured with a 21-gun salute when he arrived at the start of his four-day visit..
He paid a courtesy call on Mauritius President Ameenah Gurib-Fakim at State House, Le Réduit.
Speaking on the strong relations that exist between the two governments, Mr Faure said that this is "underpinned by many commonalities, including shared culture and history, and most importantly as two island nations that sit in the same oceanic space".
President Gurib-Fakim commended Seychelles for its support in the Chagos question, and acknowledged Seychelles' achievements in the field of environmental conservation with particular reference to the efforts made in the protection of coral reefs.
Other areas discussed included the developmental successes of Mauritius and the geopolitical dynamics of the two countries in the Indian Ocean.
President Faure said that by working together the two nations can make significant contributions internationally. He also highlighted the many lessons that Seychelles stands to learn from Mauritius when it takes up the presidency of Indian Ocean Commission next year.
President Faure and Mr Jugnauth held a working session to discuss various areas of cooperation of mutual benefit to both countries.
During the session, President Faure described the relationship between the two countries as one that is dynamic and evolving. He added that his presence in Mauritius is testament of the will of the people of Seychelles to further consolidate the ties of kinship and partnership that exists between the two.
He said: "There are few relationships as strong as that, that exist between our two island nations. While we may be geographically destined to cooperate, there has always been a strong commitment at all levels for our countries to work as partners focused on unlocking their shared potential."
President Faure was the guest of honour at a banquet hosted by the Prime Minister and Lady Kobita Jugnauth at Le Méridien Hotel, Pointe aux Piments.
Mr Jugnauth applauded Seychelles for its remarkable role and numerous initiatives for environmental and marine conservation protection and promotion, noting that Mauritius has much to gain from Seychelles' experience in this area.
President Faure expressed gratitude to the "warm welcome and gracious hospitality extended to him and his delegation" and commended the excellent diplomatic relations the two countries have shared during the past three decades.
He said: "Our two nations continue to share a special bond built on our affinity and common heritage as sister island nations.
"Our natural affinity is also reflected in the values we have in common, in the ocean that unites us, our joint dedication to advancing the cause of small island developing states, a shared vision for development of our countries and region, a development that is solid, lasting and sustainable."
He went on to congratulate Mr Jugnauth and Mauritius for being ranked as the most competitive economy in sub-Saharan Africa noting that "this is linked to your country's economic growth, innovative potential, and an all-encompassing vision".
He added: "We recognise your country's great achievements which are an inspiration to the region and the world. We thank you for taking your country and our partnership to new heights."