Peace award at the Lords for James Mancham
27th July 2015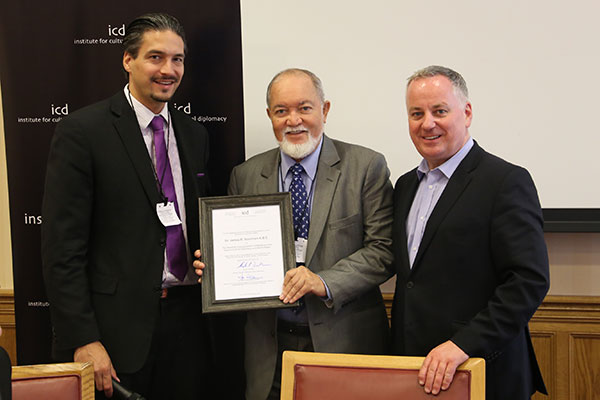 Sir James Mancham has been honoured for his efforts towards world peace.
The award was made when Sir James delivered a keynote address at the House of Lords.
He was speaking at the International Symposium on Cultural Diplomacy in the Commonwealth where he was presented with "The award for distinguished contributions to the field of cultural diplomacy and world peace".
Mark C. Donfried, Director-General of the Institute for Cultural Diplomacy, spoke of Sir James's "unique background" in the pursuit of peace. He said that the Secretariat and Advisory Board of the Institute for Cultural Diplomacy had unanimously resolved to present this special award to Sir James – and that they thought there was no fitter venue for the event but the House of Lords.
Lord McConnell of Glenscorrodale, a member of the Advisory Board and a former First Minister of Scotland, said that he was extremely happy to welcome Sir James to the Lords for the occasion because the House of Lords was the champion of those sponsoring and supporting human rights the world over.
He said: "Sir James's ceaseless activities in association with various peace-orientated organisations have certainly not passed unnoticed."
In his acceptance address, Sir James reiterated his conviction that the world's powers must move away from the policy of "might is right" to the policy of "right is might". He said that the Commonwealth was an association of so many different nations that it contained many inherent challenges.
He said that previous Secretary-Generals of the organisation had not always stood firm in the sphere of human rights and constitutional propriety. He added: "It is important that any new Secretary-General displays a high level of cultural diplomacy and stands firm on human rights issues as it did when the Commonwealth at a Bahamas summit decided to expel South Africa because of apartheid."
Sir James said that the Commonwealth today has survived because of the total dedication, commitment and determination of Her Majesty Queen Elizabeth II, who is worldly respected and acclaimed.
Among those attending the symposium were Lord David Triesman, former General-Secretary of the Labour Party; Lord Swraj Paul; Lord Frank Judd; Lord Michael Bates, former Minister of State at Home Office; Sir Simon Hughes, former Minister of State for Justice and Civil Liberties and former Deputy Leader of the Liberal Democrats; Robin Marsh, Secretary-General of the Universal Peace Federation; Dr Sheikh Ramzy, Director of Oxford Islamic Information Centre and Professor Shafique Chaudhry, Chairman of the Council for Christian Muslim Relations.