Paradise? Sure, but check out the bigger picture…
13th February 2018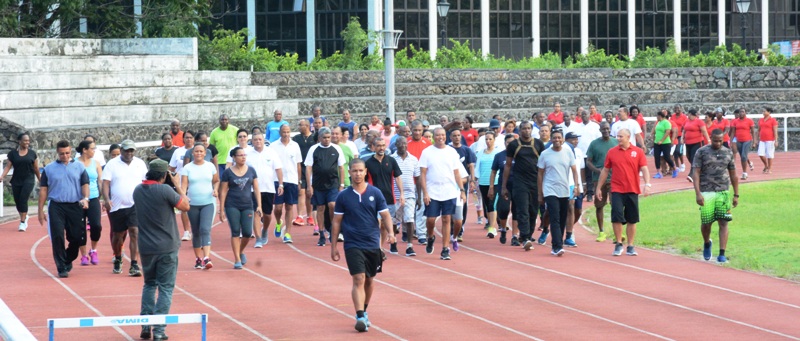 Picture paradise and you have an image of a nation whose people live a beautiful life of healthy perfection. Well, there's a wake-up call today in Seychelles.
Statistics from the World Health Organisation (WHO) reveal that more than 65 per cent of the adult population is overweight.
It has prompted President Danny Faure to promote a new national fitness initiative which aims to encourage a healthier lifestyle.
He has started with baby steps too: you can get on the road to fitness by simply walking more.
The President took part in the first session held at Stad Popiler and was joined by, among others, Vice-President Vincent Meriton, Minister for Health Jean-Paul Adam, and the chief executive of the National Sports Council, Giovanna Rousseau.
All put on their sportswear to walk, jog or run around the stadium.
They desperately needed to set a good example. On top of the flabby adult population, 22 per cent of Seychellois children are also too heavy.
Data collected by WHO indicates that Seychelles has the highest proportion of overweight and obese population in sub-Saharan Africa.
The government says it is committed to encouraging a healthy lifestyle to curb the rising epidemic of obesity and diseases such as hypertension, diabetes and heart failure.
Jean-Paul Adam said a more nutritional and healthier diet combined with regular exercise would help prevent these diseases.
He thanked President Faure for showing his support. Mr Adam said: "This is an example that will motivate others to not only exercise, but exercise regularly."