Pageant winner Emily is 'so proud'
8th October 2015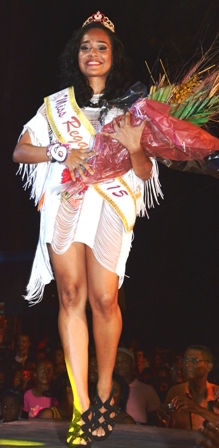 The girl crowned as Miss Regatta 2015 said it was her "proudest moment".
Emily Albest, 20, took the title from 11 other hopefuls in the ceremony at the Regatta venue at Beau Vallon.
The contestants had to parade in casual wear, swim wear and evening wear.
Emily, who is studying for an Advanced Diploma in Hospitality Management at the Seychelles Tourism Academy, said: "I am very happy. I was not expecting to win. This is the proudest moment of my life and I will always cherish this moment."
The Regatta fundraising event is the 42nd hosted by Round Table Seychelles. Emily, from Baie Lazare, said she planed to work in partnership with Round Table Seychelles to help with charity events and to contribute towards the less fortunate in Seychelles.