Our target for the next 15 years, by Minister Joel Morgan
8th October 2015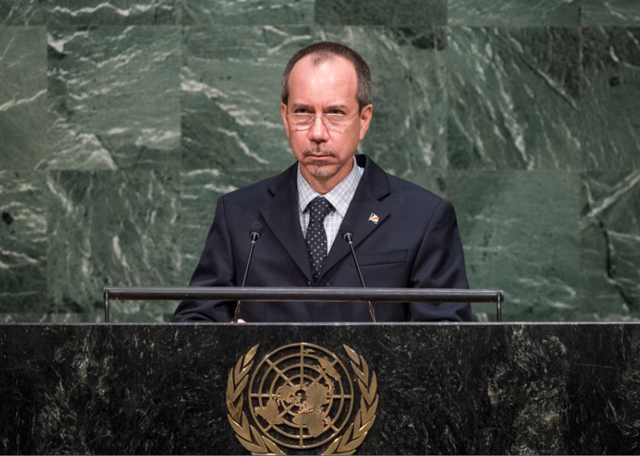 Seychelles aim in achieving UN goals for the next 15 years has been outlined by the Minister for Foreign Affairs Joel Morgan.
He was at the United Nations Summit for the adoption of the Post-2015 Development Agenda, which was attended by the UN Secretary General Ban Ki-Moon.
Morgan called for greater emphasis on the fight against climate change, poverty, education – including early childhood development and higher education – as well as gender equality.
These were the tools needed to achieve sustainable development and strengthen international support for Small Island Developing States (SIDS).
The ambitious UN development agenda, which will come into effect in January 2016, sets priorities for trillions of dollars in spending. It comprises 17 Sustainable Development Goals (SDGs) and 169 targets aimed at ending extreme poverty, ensuring prosperity for all and tackling climate change over the next 15 years.
The new agenda will succeed the Millennium Development Goals (MDGs) launched in 2000, although it will be covering a larger range of issues, compared to the 8 Millennium Development Goals with 21 targets, which will expire at the end of 2015.
Minister Morgan said: "Seychelles takes pride in having achieved most of the Millennium Development Goals, and some were achieved even before the process was launched.
"For example, in education and health, Seychelles had already been having near 100 per cent enrolment of both girls and boys in primary schools. Women giving birth were assured of the best possible care and the attention of trained personnel. Child mortality was already low compared to many other countries with similar GDP. Environmental protection was already a flagship cause for Seychelles."
He went on: "Despite these achievements, my country continues to inspire greater impetus to ensure that the few unaccomplished challenges of the MDGs are fully met."
He said that the there is a need for the SDGs to be widely understood by everyone after which "politicians will take them seriously and governments will finance them properly."
Morgan highlighted the importance of goal 14, which sets out to conserve and sustainably use the oceans, seas and marine resources.
"Seychelles is calling for enhancing the capacity of developing nations to sustainably harness the potential of their oceanic spaces."
Morgan announced that Seychelles is planning to host a Blue Economy Summit in January 2016, with the support of the UAE, during the Abu Dhabi Sustainability Week.
He said: "Seychelles will continue to reaffirm the importance of the Blue Economy as part of efforts to develop a "Green Economy" to better harness our natural resources for sustainable development for combating climate change, for growth and food security."