Our story over 40 years is one of success, but we are not complacent, Seychelles High Commissioner tells diplomats at anniversary celebration
6th July 2016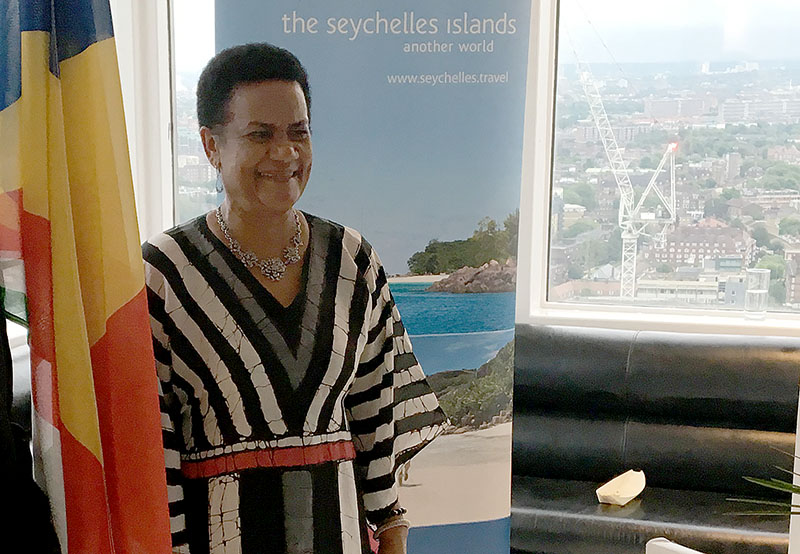 The achievements and challenges experienced by Seychelles over the past 40 years since independence were highlighted by the Seychelles High Commissioner in London Marie-Pierre Lloyd.
Mrs Lloyd told guests at an anniversary reception: "Forty is a significant number and 40 days or 40 years are usually referred to as times of trials and testing.
"I must admit that over the past 40 years Seychelles has had its fair share of trials and tests both internal and external. As we reflect over those times we do so with pride and optimism. We have made great achievements, have met challenges head on and in some cases have turned threats into opportunities for growth and development.
"From the sound foundation of our achievements and having drawn lessons from our past we look to the future with confidence.
She said that from an agrarian-based economy prior to independence Seychelles now has the second highest GDP per capita in Africa and is considered one of the continent's six upper middle-income countries.
The High Commisioner said: "While tourism and fisheries remain the two main pillars of our economy the country has gone through significant socio-economic transformations over the past decade and small and medium-sized enterprises are now increasingly diversifying the national economic base. Seychelles has successfully been through economic reforms since 2008 and is now considered a case study of successful reforms in a small island economy."
Seychelle's achievements in health and education have also been remarkable. Seychelles is among the few countries that have achieved the Millennium Development Goals. The constitution makes provision for free and compulsory education from six to 15 years of age and the Education Act (2004) provides for pre-school education for children from three years.
Maternal and child mortality have been low compared to many other countries with similar GDP.
Mrs Lloyd said: "It comes as no surprise therefore that we continue to maintain our position amongst the highest ranking in Africa on the Human Development Index."
She went on: "Over these past 40 years Seychelles has not only succeeded in providing for the basic needs of its people but has also strengthened its position, both in regional and international arenas. We have actively integrated ourselves within the global village and through the Commonwealth, the UN and other multi-lateral agencies or organisations. We have added our voice to global debates and in some instances have spearheaded innovative initiatives to address global concerns. The Blue Bonds initiative and the debt – for climate adaptation swap agreement are recent tangible contributions."
With an Exclusive Economic Zone (EEZ) representing 1.3 million sq. km, the second largest in Africa, Seychelles is also championing the Blue Economy concept as a method to realise sustainable growth based around the archipelago's waters.
As an active member of the Alliance of Small Island States – and next year the chair country – Seychelles remains a hardened defender of the interests of Small Island Developing States.
"We shall also continue to be a strong advocate for greater concerted actions and collaboration between nations, to address pressing global issues such as climate change. Seychelles joined the rest of the world, as well as a coalition of small island states, at COP 21, in Paris last December to sign the historic document which promises to give humanity a second chance.
"Last month Seychelles was proud to host the Fourth Global Biennial Conference on Small States under the theme 'Achieving a resilient future for small states'.
Mrs Lloyd concluded: "Our story is indeed a success story and we look to the future with pride and optimism but not with complacency. We are very well aware of the challenges which need to be addressed. Being part of the global village we have not been spared the negative effects of globalisation. Global threats like climate change, violence and extremism and economic downturns can de-stabilise our socio-economic achievements and also pose serious threats to national peace and security. Social ills like drugs and substance abuse and other unhealthy lifestyle habits are increasingly posing serious threats to the social, economic, and cultural foundations and fabric of our society.
"Seychelles is therefore committed to the implementation of the Sustainable Development Agenda 2030 for a more equitable and peaceful world, free of social ills and environmental degradation."
The High Commisioner thanked "all our partners and friends for their unwavering support, collaboration and cooperation over the past 40 years.
"Our strong historical and people-to-people ties with the United Kingdom have grown from strength to strength."
Seychelles-UK educational exchange and cooperation has also grown rapidly. Britain is now one of the largest European hosts to Seychelles students and the partnership between the University of Seychelles and the University of London is also thriving.
The British Government recently extended considerable support in building Seychelles' capacity in the fight against piracy.
"The Commonwealth has created an ideal platform for exchanges between countries, big and small, bound together through a shared history. We are also very grateful for the technical assistance provided by the Commonwealth at different stages and in different sectors of our development."
She added: "On this note it is my great pleasure to invite you to join me in a toast to congratulate HM Queen Elizabeth II, the longest serving Monarch and Head of the Commonwealth, on her 90th birthday this year. We wish her continued health and happiness."