Our nice-guy President who wants to put a block on our civil liberties
16th March 2018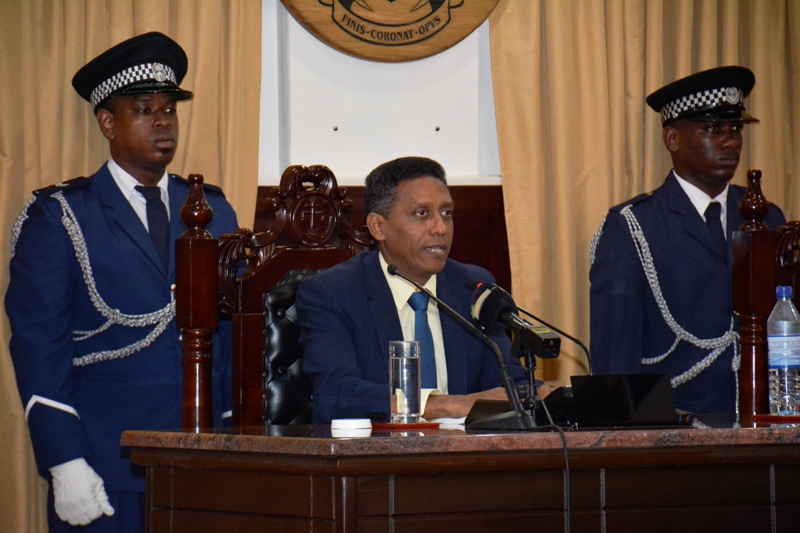 By Lewis Betsy
President Danny Faure's State of the Nation speech was full of fine words. In a lengthy, wide ranging statement to the National Assembly, he pointed out the challenges ahead, the government's hopes and the great strength of the Seychellois people in working together.
But there was a sting in the tail. At a time when Seychelles democracy is finally growing in maturity there returned the shadow of the harsh one-party state. The right to make a public protest was being confined.
Mr Faure spoke of the many things the government is doing. The "positive" economic growth, care of the elderly, an increase in maternity leave, education, tax, employment, and the administration's "continual efforts to reduce the cost of living".
Then there was tourism, the environment, fishing, agriculture, small businesses, the water supply, and his plans to build tunnels between Cascade and Grand Anse Mahe, and between Beau Vallon and English River.
There was also "an ambitious programme" to build more houses.
His references to health spoke of drug and alcohol abuse and more exercise for everyone.
He spoke of family values: "Family is the foundation of our society. The state of the nation depends on the state of our families, the state of our communities, and the state of our economy."
There was also mention of the controversy oover Assumption island, which I comment on elsewhere in Seychelles Life, (We need a referendum to sort out the confusion over Assumption).
It was all sounding so grand. But then came the part of the speech where I caught my breath.
Mr Faure comes over as an easy-going nice guy; a man who despite being President really wants to be thought of as a genial friend with some good, solid ideas. We should not be fooled. He is clearly a man who wants to keep a tight control on his people, a control freak who it appears will not tolerate any dissent lightly.
This is what he said: "Mr Speaker, our democracy has also seen an increase in the space for civil liberties and freedom of expression.
"The media that represents the fourth pillar of our democracy plays an important role today. We also have several social media platforms. These are good, but what is important is that we use these resources in a responsible manner and maintain respect for others.
"We live in a free country, in a democratic country. Protesting is a right under our Constitution, but it needs to be done with responsibility, upholding order and peace. This is essential in the maintenance of stability, which is what allows the country to progress.
"We are working on a regulation under the 'Public Assembly Act 2015' that will establish what we would call a 'Speaker's Corner' in Victoria. This is a place where our citizens will be able to express themselves and their opinion."
So that's where he wants all public protests to be held. Just one small corner, out of sight of the general public and presumably, out of mind too. Is that what we deserve? I think not. We should put a block on that plan immediately.
Some commentators have said that his speech was really the start of his presidential campaign. It was an early attempt to woo voters to his side with a positive list of hopes and aims.
That raises several questions: Does it mean we shall soon get a date for an election, something I have long campaigned for.? Will it mean that Wavel Ramkalawan and Patrick Pillay will have to up their game?
In the meantime, we should keep an eye on this nice-guy President and make sure he doesn't take us back to the bad old days. We have fought too long to give up that easily.