Music is changing my life and it's all down to divine timing, says new singing star D'Amore
10th July 2018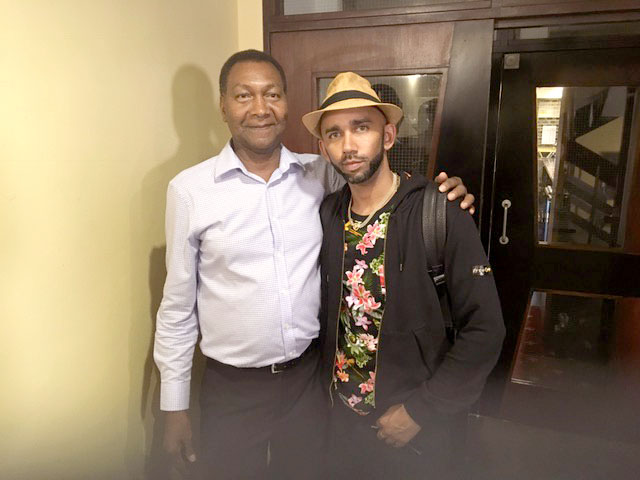 Singer D'Amore is starting to make a big name for himself. He so impressed everyone with his performances at the Commonwealth Big Lunch in April and the 42nd Independence Day celebration held by Seychelles Life in June that we wanted to know more. Here, the artist born Darren Moustache and hailed as the "new kid on the block", tells us about his musical life and his hopes for the future...
Seychelles Life: When did you start singing?
D'Amore: I started singing when I was between three and four years' old. I would watch and listen to my dad as his band rehearsed during the 80s and 90s, I would try to mimic what they did. I was very fortunate that my mother and father enrolled me into private piano tuition where I studied classical piano and obtained a Grade 5 from the Royal School of Music by the age of 15. I didn't take singing seriously until I was 18 and began studying Music Production at college.
What do you enjoy most about singing?
Being able to connect with others and write songs which echo other people's feelings. Helping people to understand that they are not the only ones that relate to what our day-to-day lives bring us. To be able to enrich people with good vibrations when they need it and also to comfort people who are feeling different emotions, but feel music helps them with their personal circumstances at that present moment. I believe music allows people to connect and hear my stories through beautiful melodies from the universe.
Is your family musical?
Well my family is from the Seychelles which means that music is in my DNA. Mum loves to sing a bit of Sega and Country, whereas my dad is the root of my musical talent as he plays the guitar, piano, drums and sang. It was very clear he passed his talents down to me. I am very fortunate to have had these chances in my life, as my parents struggled in theirs, moving to the UK for a better life, which God granted them as an opportunity to do more and do better for themselves. They came over to the UK in the 1970s, settled and had a family. I love my parents very much and want to make them proud for all the sacrifices which they made so that we could live better lives. Dad still plays music for his own satisfaction. When we are together we have a sing-song to some old Bob Marley greats. I am trying to get him into the studio to record his great guitar skills and hopefully make some even better music. I would be honoured if he could be a part of my music and life more. His dreams are not over, he can live them through me.
Do you play any musical instruments?
After I obtained a Grade 5 in Classical Piano I stopped due to school exams. I pursued music further when I went to Langley College in Slough to study Music Business and Production and this is where I found my voice as a singer. I also play the guitar and bass, of which I am self-taught, as well as the drums. I create and produce music which means technically I can control and make the music through the technology we have today, with the use of MIDI (which is digitally enhanced sounds).
Who do you admire in the entertainment business?
The list is long. My first established artist would have to be Bob Marley, who undoubtably is the biggest influence to myself and probably many Seychellois artists. Next, would have to be Prince, the king of real R&B and soul. He was an all-round musician who connected with his music but also people in a big way. I respect both men very highly as they were self-taught and created some of the most unforgettable songs ever made. Both sang of a message about people loving each other or the lack of love in this world and we can all relate to those two things. I also rate people such as Al Green, Marvin Gaye, Usher – even Chris Brown for his vocal range. There are so many more. I could go on forever.
What is your line of work?
I currently work for myself in a studio where I engineer and record other artists who are trying to achieve their own goals. I enjoy what I do as everyday I learn new techniques and and gain more musical knowledge to help better myself. I also teach singing and the piano privately to younger children. Previous to all this I worked for the NHS for eight years. I left not long ago to take a risk. I was becoming unhappy as it restricted me from being me and become the person I am meant to be. I enjoyed my job there as I learnt about different people and also thought me to appreciate what I do have. I had to move on and take a risk.
Would you like to take your singing career further?
Very much so, I love the feeling of singing my songs to people and watching them enjoy hearing them and also singing them back, whether it's my song or Bob Marley's. I know one thing for sure, when he wrote Is This Love, I definitely know and have felt those emotions before. That is what I'm about and really what we all need more of. I have had an amazing blessed life to this point and know that things in life are not easy. They do not come to you. You have to create your own pathway on your journey. Timing though is the key. We control what we do, but we can't control when these things happen. I have been very lucky to be able to have been where I have been in life, but also where I'm about to go. I call that divine timing.
Would you like to be in a band or remain a solo performer?
I believe that one day when the time is right, I will see myself on stage performing with a band of very talented musicians. That will be the best experience, to be in front of so many people and the band playing my songs. For now though, I have to face the crowd by myself. That will all come, as I progress.
What is your connection to Seychelles?
My parents came over from Kenya though my grandparents originated from Seychelles, their surnames are Moustache/Youngman from my dad's side and Alvis/Etheve from mum's side. Mum and dad were both the youngest in their families and were not as fortunate to have been born in the Seychelles like their older siblings. I was born in West London and have lived in the Ealing area all my life.
How did you choose your stage name?
D'Amore comes from a mixture of different influences in my life. D, for Darren being my first name; Amore with a slight UK twist on it using the "Amore" in-place of the "Amour", which is how we spell love in Seychelles. Also, because there is a coconut-based rum from Seychelles called "Coco D'Amour". If anyone asks, it will normally lead to me explaining that we also have the biggest nut in the world called the coco de mer which only grows in the Seychelles. I then show them a picture and they are overwhelmingly surprised!
What are your immediate plans?
I will be going to the Seychelles within the next month to film four of my music videos.
One of the songs is called Finest.
https://itunes.apple.com/gb/album/finest-single/id1273919708
I would really like to help promote local businesses so anyone who wants to be involved with the videos can get in contact with me. Also, anyone who wishes to pursue music and feels I can help in any way is free to contact me. damore.worldmusic@gmail.com