Michelle, the construction student who built her hopes on winning the President's Cup
3rd May 2016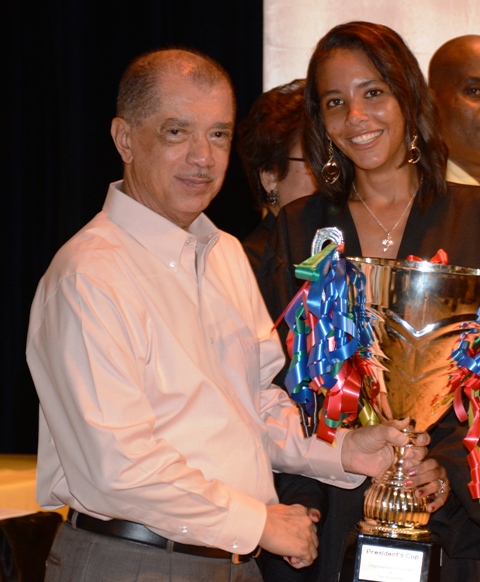 Michelle Pool is an engineering student who knows what she wants... and how to succeed.
"I wanted this and I did it," she said after being awarded the President's Cup at a graduation ceremony from Seychelles Institute of Technology.
The cup was presented to Michelle by President Michel at the International Conference Centre.
Michelle, who studied for a technician diploma in construction industry, also had an excellent record of attendance and punctuality, work attachment and other college-based activities.
She said she thought she would win the cup but there were also other students who deserved it. "I'm very happy and very proud," she said, as indeed was her mother, Angelique Hoareau.
Michelle is now working as an engineer technician at D&C Construction and wants to further her studies as she is keen to specialise in engineering.
Institute director Hubert Barbé said when the learners joined the institution they had mixed abilities and aptitude, but they displayed the motivation and willingness to learn and acquire new skills.
"Life is about taking advantage of new opportunities and the desire to continue to learn and grow," he said. "Please remember that success does not come easily. You need to have passion in whatever you undertake. Do not give up when you make mistakes but use your experiences as starting points for further achievements."
Stan Belle was awarded the most improved performer and the best performer for advanced certificate in mechanical engineering. He said devotion from the very beginning played an important role.
Stan, who is now working at the local aviation authority as an electro mechanical engineering technician, added: "I dedicated all my time and I was serious. Although there were ups and downs I always kept a positive mind to not give up."
A total of 193 students were awarded certificates after completing their courses. At certificate and advanced certificate levels, the students studied carpentry and joinery, electrical installation, electrical and electronics, masonry, mechanical engineering, motor vehicle mechanics, painting and decorating, plumbing, and refrigeration and air conditioning.
Programmes at diploma level include construction industry, mechanical and electrical engineering, motor vehicle engineering and telecommunications systems and advanced diploma in construction industry.