Lissa proves queen of Africa in the high jump
8th October 2015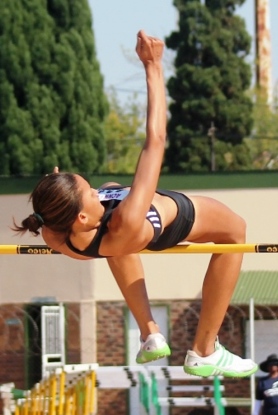 Athlete Lissa Labiche has confirmed her status as queen of the African continent in the high jump.
Lissa gave Seychelles its fourth gold medal at the 11th All-Africa Games in Congo Brazzaville, by clearing the bar at 1.91m.
She held off the challenge of three-time champion Doreen Amata of Nigeria, who reached 1.85m and took silver. South Africa's Julia Du Plessis won the bronze medal with 1.80m.
Labiche already holds the Seychelles national record of 1.92m – set at the South African Open Athletics Championships in South Africa in May.
Seychelles' tally of four golds surpassed its previous best of two gold medals in the 2007 Algeria Games.
The other three gold medals came from weightlifter Ruby Malvin who lifted a total 189kg (80kg in snatch and 109kg in clean & jerk) to win two and one silver, while badminton players Allisen Camille and Juliette Ah-Wan took gold in the women's doubles event.
Weightlifter Clementina Agricole also took silver for her 115kg lift in clean & jerk and two bronze in the snatch (91kg) and total (206kg).
Boxer Keddy Agnes took the +91kg weight category silver medal after losing 0-3 in the final to Nigerian Efe Ajagba.
The Seychelles mixed team of Juliette Ah-Wan, Cynthia Course, Allisen Camille, Steve Malcouzane, Georgie Cupidon and Kervin Ghislain finished third for the bronze medal in the team event won by Mauritius, while Georgie Cupidon and Juliette Ah-Wan teamed up to win the other bronze in the mixed doubles event.
Swimmer Alexus Laird won a bronze medal in the 50m backstroke, clocking 30.07 seconds.