Joy as whale season starts off Aldabra
2nd September 2015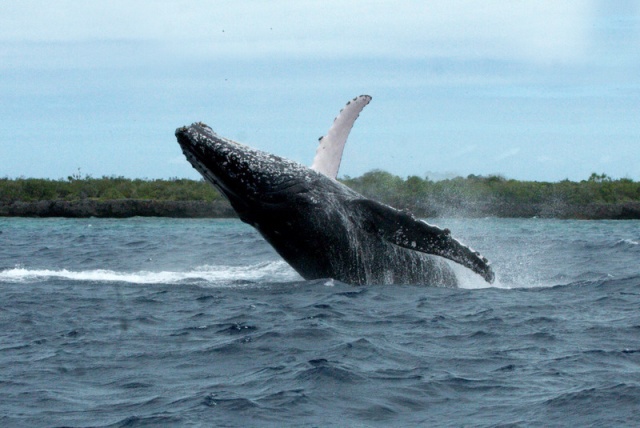 The first sightings of a humpback whale off Aldabra have delighted researchers on the atoll.
At this time of year the south-eastern trade winds bring past pods of humpback whales, some up to 16 metres long and weighing 36 tons, as they migrate to warm waters from the cold of the Antarctic to breed.
The Seychelles Islands Foundation (SIF) has managed the UNESCO World Heritage Site since it took over from the Royal Society of London in 1979 and its workers were overjoyed at the sightings.
April Burt, SIF's Aldabra Scientific Coordinator, said: "These awesome creatures are fascinating to us. The atmosphere on the station was a little bit like Christmas morning as a child."
The team observe from Settlement Beach, where the whales play close to the reef. Humpbacks are acrobatic creatures, known for breaching and slapping the water with their tails and pectoral fins.
According to Burt, the Seychelles archipelago, including the Amirantes and Aldabra, was an important whaling hunting ground for American whalers during the 19th Century. However, the humpbacks were hunted to the brink of extinction for their whalebone, oil and meat before a moratorium on their exploitation was introduced in 1996.
Since then, their numbers have increased to an estimated 80,000 individuals worldwide.