I want to use my new visibility to inspire the next generation of women, says award-winning diplomat Marie-Pierre
7th June 2016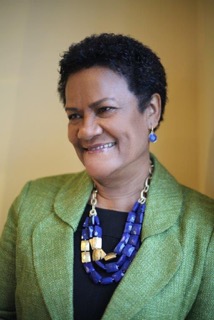 SeychellesLife asked Marie-Pierre Lloyd, the Seychelles High Commissioner in London since 2012, about her life and work in the UK. In the Spring, she was named the 2016 Diplomat of the Year from Africa. She received the award, the only one of its kind in the world, from Tata DIPLOMAT magazine whose editor Venetia de Blocq van Kuffeler, said the title was "not about politics or policies. It's about people, and professionalism". Here, the High Commissioner gives an exclusive insight into her fascinating career...
Congratulations on being named the 2016 Diplomat of the Year from Africa. What does the award mean to you and will it make a difference to your work and the people you deal with?
Being chosen for this award means a lot to me personally, as I am extremely proud of the work I have done during my time on the diplomatic scene in London. Being able to represent Seychelles to the largest diplomatic corps in the world has truly been a career highlight.
I also think that the award does, and should mean, a lot to Seychelles as a nation. Being recognised in this way by our fellow nations is testament to the great contributions we continue to make in diplomacy and thought leadership in areas like climate change, Blue Economy, small states issues, human development and the knowledge economy
I definitely think that this will make a difference to my work. Being a woman diplomat and winning this award is no small feat! I want to use my position and new visibility to inspire the next generation of women and girls back home to join what is still a predominantly male profession.
You have long campaigned for women to be empowered within the workplace and in particular, diplomacy. How is that battle going?
Empowering women to develop to their full potential and to contribute to national development is critical if any society/country wants to progress.
Women have made many strides and many have "broken the glass ceiling". Seychelles has a great track record in gender equality and I look around at my peers and am so proud of their impressive achievements.
Unfortunately, for so many of us there is still a considerable way to go. Some sectors are still predominantly male and it is something we all need to work towards. For example in diplomacy women represent only 4 per cent and that is not even at Head of Mission level!
Your role as High Commissioner involves promoting Seychelles. What image abroad does Seychelles have apart from its "paradise on Earth" title so loved by the tourism industry? What image would you like to see?
Seychelles' image is that of a stable, clean, five-star destination for tourism. We also have a reputation as a country not afraid to take a stand, to lead other small states on issues like climate change, resilience and the Blue Economy. Regardless of our size we consistently punch above our weight and are known for our ability to come out with big ideas – bringing solutions rather than just problems to the table.
I would like to build on that stellar image to attract clean and transparent business and investment. Our diverse and dynamic culture is another aspect that I think we as a nation can capitalise on. We are lucky to be an open and fair country where people have the opportunity to develop their potential and live in a harmonious melting-pot.
The Seychelles I grew up in and the image I would like to continue to see is one where we live harmoniously , where the colour of one's skin, one's bank balance, religious, sexual and political preferences do not matter. We are all proud to be Seychellois. A Seychelles where tolerance, diversity, resilience is a way of life.
Britain is about to hold a referendum on whether to remain in the EU. Does the debate cause you concern? What effect would a vote to leave have on Seychelles and its relationship with the UK?
I find the debate interesting but not necessarily of concern. We have a special relationship and continue to enjoy very strong ties with the UK as part of the Commonwealth.
Regardless of the outcome of the referendum I highly doubt her relations with either the EU or the UK will be negatively affected.
Though born and educated in Seychelles, you studied for your major qualifications (BA. Hons. Sociology, MSC Human Resources Management) in the UK. As a young graduate you returned home in 1976. Those 40 years since have seen some seismic changes in Seychelles. What do the next 40 years hold?
You are right we have made great strides in the last 40 years across all sectors. I feel privileged to have been part of that era.
I didn't even wait for my graduation ceremony before I returned as a young graduate in June 1976! Since then I have worked mostly in the public sector with short spells in the private sector and in civil society.
Despite our achievements we are now facing huge challenges that are also affecting nations globally notably: climate change, and new and emerging issues in both social and health sectors such as drugs and substance abuse, obesity and other lifestyle related diseases.
These are issues that we cannot turn a blind eye to and we have a responsibility to address. However, I am hopeful that as long as we continue to be pragmatic, forward-looking and look for solutions together we can address these challenges in an effective manner.
After all we have a much more educated, socially mobile, engaged and dynamic population than we did 40 years ago. I have faith in our innate Seychellois ability to turn adversity into victories, our vulnerabilities into opportunities and to inspire others with our successes.
Do you have any personal goals you still aspire to?
Yes, my personal goal is to look after myself, physically, mentally and spiritually so that I live healthier for longer.
I also hope to continue empowering and inspiring others so that together we can keep Seychelles as a paradise which present and future generations can be proud of.