I Know What It Takes to be a Good Ambassador
19th August 2014
Marie-Pierre Lloyd was appointed Seychelles High Commissioner, in October 2012 and presented her letters of Commission to the Queen the following March. Her particular areas of expertise are policy formulation, analysis and evaluation; project development and implementation with special focus on human development (health and education). Here, she tells us about her work and her background… Role of Ambassador
As Ambassador my general responsibility is to promote, protect and represent the interests of Seychelles in the UK and other countries to which I am accredited, in the political, economic, cultural technical areas; to contribute to better knowledge of Seychelles and to strengthen friendly relations between Seychelles and countries of accreditation. It is also my duty to protect the rights and promote the welfare of citizens of Seychelles within the limits of my authority and country of jurisdiction.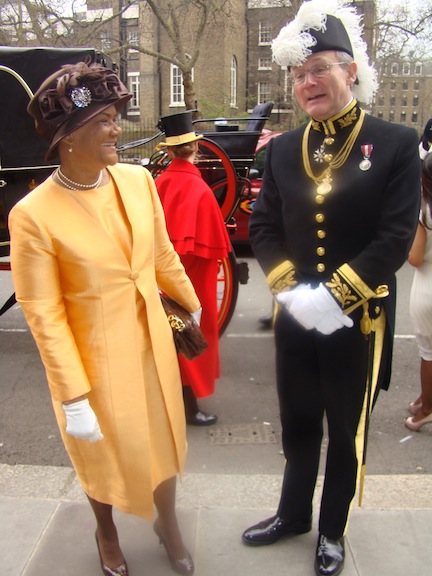 What do I bring to the job?
From my family and personal background in national development (political, social, cultural and economics) I think that I have what it needs to be a good ambassador for Seychelles.
I graduated and returned to Seychelles in 1976 (the year of Independence) and have since been involved at various levels in decision and policy-making.
I was in 2011 fortunate to be involved as a lead facilitator in developing Seychelles' Vision 2020, for a New Seychelles. As part of this vision we are promoting active diplomacy. We think we have much to offer despite our small size. Our achievements with respect to human development and Millennium Development goals (life expectancy; literacy; sanitation; drinking water; internet/mobile coverage are high and well recognised worldwide. (46th in the HDI 2012 report).
We were instrumental in getting a special mention/focus for Small States in the new Commonwealth Charter and think that based on our achievements and vulnerabilities we have something to share with and learn from other countries. The Commonwealth is a good forum for us to do that (representing 54 countries 32 of which are small states)
My role as High Commissioner in London is primarily to represent Seychelles. Besides maintaining the excellent bilateral relations between UK and Seychelles I also participate in meetings/fora and initiatives (Commonwealth, SADC, AU, Small Islands States) in order to promote Seychelles' active diplomacy agenda. London is the largest, most significant and probably the most active diplomatic hub in the world.
With respect to Seychellois nationals living/studying in the UK I would like to develop a database and establish an official interface between them and Seychelles and vice versa.
Away from diplomacy, Marie-Lloyd says she has a passion for empowerment of self and others. She has pioneered and led many programmes for empowerment of young girls and women. She enjoys reading especially books and articles on new thinking/approach, which focus on finding solutions to current issues/concerns. Marie-Lloyd says she loves music (any genre as long as it is good music!) dancing, travelling and socialising.
Background
Born in 1952, Marie-Pierre was educated in Seychelles and studied at Liverpool University (BA. Hons Sociology) and Loughborough University of Technology (MSC Human Resources Management.) She has been a Fellow of the Chartered Management Institute (UK) since 1990. Marie-Pierre is divorced with two children. Positions held
Marie-Pierre entered Seychelles' public service in 1976 and has held many senior positions, responsible for both formulation and implementation of national policies and strategies. These include Roving Ambassador for Women & Children's issues, Minister For Health & Social Development, Minister For Employment And Social Affairs, Special Adviser To The Minister Of Social Affairs & Employment and Secretary Of State - Ministry Of Education, Information & Youth.
Marie-Pierre has also had impressive international experience including being a delegate at the AU summit, Addis Ababa in 2012, head of Delegation Langawi Smart Partnership International Dialogue, Malaysia (June 2011). She also hosted a meeting of SADC Ministers Responsible For Health & For HIV/Aids, Seychelles, 2010.
She has been described as having 'the ability to think out of the box and can bring new, innovative ideas. She also has an innate ability to see the details as well as the big picture. She is a strategic thinker, pragmatic and with a sharp intellect. That coupled with her excellent interpersonal skills make her a great communicator and leader'.