High Commissioner bows out of 'endlessly fascinating' role with word of advice
2nd September 2015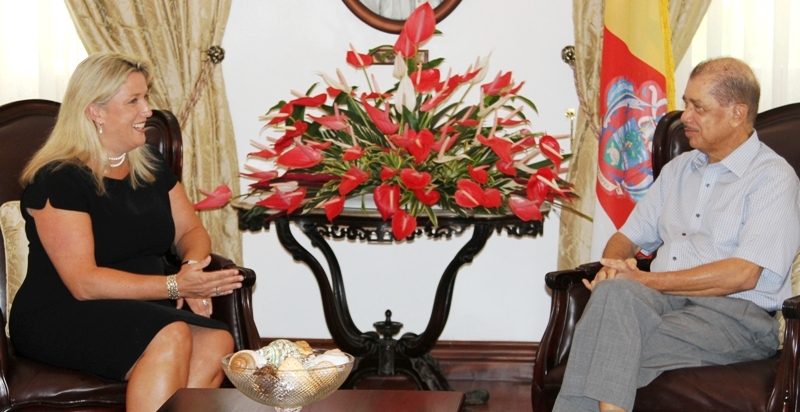 Lindsay Skoll, the British High Commissioner to Seychelles, has finished her three-year term of office with plenty to think about.
She described her term as "endlessly fascinating, quite challenging at times, but overall extremely rewarding".
The former High Commissioner's time in Seychelles has included taking the Queen's baton scuba-diving, presenting an OBE to Anglican Archbishop French Chang-Him, leading the 100-year commemoration of the outbreak of the First World War, seeing the BBC Relay Station handed over to the Seychelles Government, and conducting the first same-sex marriage in the country.
Her highlights, she listed as working with the Seychellois public, projects to tackle domestic violence, empowering women with small businesses, and seeing prisoners released and thriving in employment.
However, Mrs Skoll is not soft on criminality. She woke one night in her official residence to find an intruder at the end of her bed and many personal possessions stolen. She described drugs and crime in Seychelles as "a massive hurdle for a tiny country and this government to overcome...and it's hitting Seychelles hard" and called for a "holistic approach" from the Seychelles government.
She said she will miss the work, the people, friends and colleagues, the islands and especially the scuba diving.
She paid a farewell call on President James Michel at State House.
President Michel said: "I would like thank you for the work you have accomplished during your mandate to further deepen the friendship between the United Kingdom and Seychelles, with fruitful partnerships and positive outcomes. The UK remains one of Seychelles' valued developmental partners, bilaterally and through international bodies like the European Union and the Commonwealth. Our two countries have benefited from the friendship and history we share to collaborate at ever greater levels."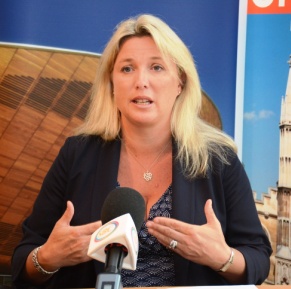 Lindsay Skoll will be replaced by Caron Röhsler who most recently worked as Deputy High Commissioner to Ghana.
Ms Röhsler joined the Foreign and Commonwealth Office in 2000 following a career in online publishing. She describes herself on LinkedIn as a "website designer-turned diplomat" and on Twitter as an "artist trapped in a diplomat's body".
The Oxford-educated award-winning poet said: "I am delighted to have been appointed. Seychelles has a reputation not only as one of the world's top tourist destinations, because of its unique and extraordinary natural beauty, but also for making significant progress on the Millennium Development Goals. It is also internationally recognised for the vision the Seychellois government has shown in promoting sustainable growth through the Blue Economy, valuing the natural environment as a habitat, and a resource, for the benefit of all – including taking a strong stance against piracy in the region."
She might also want to bear in mind Lindsay Skoll's advice to her: "Assume nothing. Listen very hard and keep your eyes wide open."