Growing international support for the 'noble cause' of a truth and reconcilation process in Seychelles
25th February 2016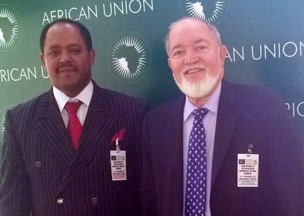 The campaign to organise a peace and reconciliation movement in Seychelles has won international backing.
The United Religions Initiative (URI) Africa spoke encouragingly about Sir James Mancham's aim when it awarded him the 2016 Africa Peace Award.
Now the All Africa Conference of Churches has endorsed his plan to set up a peace and reconciliation centre in Seychelles.
The Africa Peace Award honours the accomplishments of those who have exhibited extraordinary leadership to build a culture of peace. Mussie Hailu, Regional Director of URI for Africa, praised the former Seychelles President, for his "outstanding work" in, among other things, "promoting a culture of peace, interfaith harmony and cultural values".
He said of Sir James: "One of his most important and instructive traits is his ability to imagine and re-imagine peace and reconciliation issues in a way that could move the dialogue forward."
The vision of URI Africa, an interfaith peace organisation, is to see a united, prosperous and peaceful Africa where there is no religious strife. Through its 175-member organisations from 31 African countries, URI Africa is cultivating peaceful coexistence among different religions and cultures.
Sir James said he was exhilarated to receive the award, coming as it did in the wake of his decision to create and promote a Centre for Peace Studies and Reconciliation in Seychelles.
The Rev. Andre Karamaga, General Secretary of the All Africa Conference of Churches (AACC), also spoke highly of the project and congratulated Sir James on the peace award.
He said: "We are also extremely thrilled to learn about your initiative to establish a peace and reconciliation centre and would like to express the endorsement and partnership of the All Africa Conference of Churches for your initiative as such a centre is very much needed in Africa."
The AACC, a pan-Africa ecumenical institution established in 1963, works to mobilise its 120 million members to speak with one voice on issues affecting the people of the African continent.
Sir James said he was delighted by the support of the AACC whose membership comprises 173 branches in 40 African countries made up of churches, national Christian councils, theological and lay training institutions.
He said he was eager to meet members of the Seychelles Inter-Faith Council (Sifco) to discuss how together they can face the challenges for a better world and for a more united and less confrontational Seychelles.
Sifco chairman Bishop Denis Wiehe, assured Sir James of the council's willingness to work with him for what he described as "this noble cause".
He said: "I have always held the view that religious leaders should not be the tail lights but the headlights of the reconciliation process.
"Indeed, while fear only sees the present, faith looks to the future. Peace cannot be legislated. Peace must come from within and their lies the basis and justification for the involvement by religious leaders of all faiths to seek reconciliation and peace within the spirit that we all belong to one and the same human family under God."