Gold medal for teenage tennis star Damien
31st March 2016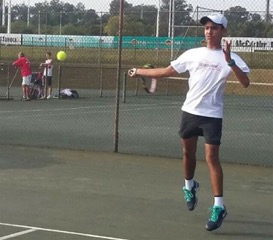 A boy who started playing tennis at six has brought pride to Seychelles.
Damien Laporte, 13, won gold in the under-14 category in the 39th African Junior Championship in South Africa defeating Nigeria's Michael Osewa 7-5, 6-4.
Damien is the first Seychellois to reach a final in the competition, and his medal is well deserved, said his mother.
Marie-Josee Laporte said: "As a parent I am happy and proud because this is one of his dreams come true. It has been through hard work and devotion on his part. We as parents have also given all our support, especially his dad who has always encouraged him with regards to his training."
Laporte, 13, who started playing tennis at six with his father Mervin and sister Chloe is ranked among the top eight players on the African continent.
Mervin said: "His dream is to turn professional and this medal will be a push for him. We will need to sit down as a family and discuss the possibility. He was offered to go to an academy in Burundi at nine but we felt as parents that he was too young."
Gary Albert, chair of the Seychelles Tennis Association, said: "It's a great achievement for the association. This is a result of the support with the help of the national sports council."