French honour for international diplomat Sir James1
31st March 2016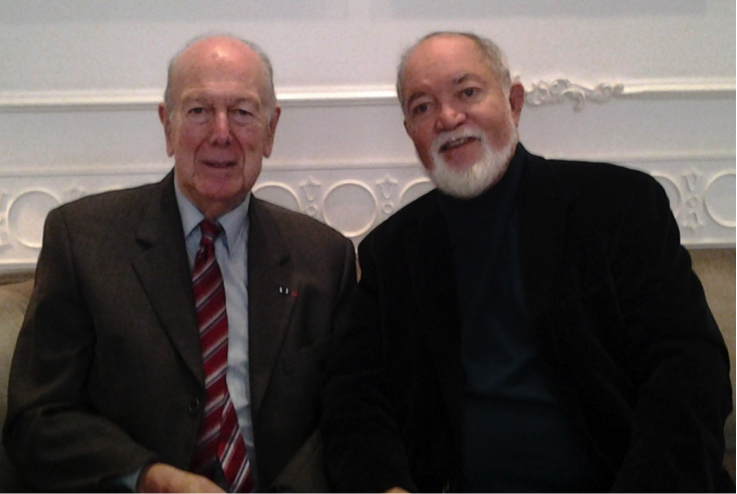 More acclaim has been received by Seychelles' founding President Sir James Mancham.
He has been invited to become a member of the Committee of Honour of the International Movement for Relations Between States and Religions in France.
The award comes as Sir James continues his efforts in far-reaching international discussions and diplomacy.
Sir James was in Baku, Azerbaijan, where he debated on the political conditions of the world.
The Global Baku Forum was titled "Towards a Multipolar World" and Sir James said the issues were all of contemporaneous interest and needed urgent attention. Among the subjects discussed were global insecurity, regional dynamics, economic vitality, climate change and multicultural, interfaith dialogue and integration.
Afterwards, he flew to London where he was a VIP guest at the Sustainability Summit organised by The Economist.
Sir James said that the objectives of the summit called "Adapt Or Die?" were intended to lay the framework for global sustainable development and it was important for a government to make sure that sustainability is incorporated into national policy.
Then came the invitation from Dr Olivier Giscard d'Estaing for Sir James to become a member of the Membre du Comité d'Honneur' du Mouvement International pour le relations Etats et Religions (MIRER).
Olivier Giscard d'Estaing said: "We have been impressed by your valued writings and your views which we share. It will therefore be an honour and encouragement for us if we can establish such a collaboration with you."
Sir James told Olivier, the younger brother of France's former President Valéry Giscard d'Estaing, that he was "delighted and honoured to have been invited to become a member of the committee.
He later said: "At the moment the world is facing a great need for reconciliation not only within nations but also between nations. In many cases, the declines of religions have seen the birth and growth of extremism. The religions and the State must work together within the spirit of pluralism to stop the growth of this unfortunate phenomena.
"Personally, I have always held the view that religious leaders should not be tailights but the headlights of the reconciliation process which the world is in need. Against this reality, MIRER constitutes a commendable and important initiative which must be seriously considered and I do not think that there are many people as qualified as Monsieur Olivier Giscard d'Estaing to internationally spearhead this initiative. He can therefore be assured of my total support and utter dedication to the challenges ahead."
Sir James added: "Ideas have the power to change the world. Change the way we think and we change the way the world works."
While away from Seychelles, Sir James also attended a high-level forum in New Delhi, India and the annual meeting of the World Future Council in Hamburg.