First female Chief Justice is sworn in
2nd September 2015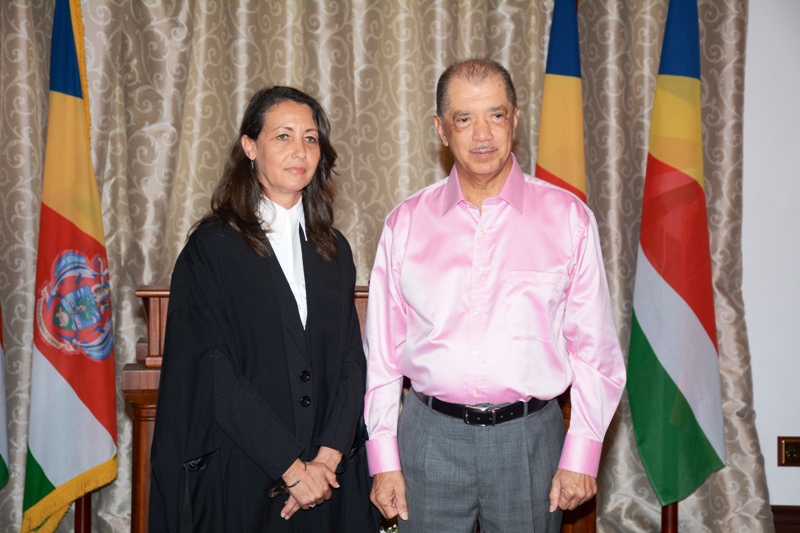 The first Seychellois female Chief Justice of the Supreme Court of Seychelles has been sworn in.
Mathilda Twomey said: "I am honoured to have been appointed Chief Justice by President James Michel on the recommendation of the Constitutional Appointments Authority.
"It is an office which carries onerous duties and great responsibility. I acknowledge the learned men who have preceded me in this office. The expectations of the bench, bar and the Seychellois people in general are high. I welcome the huge challenge and will do my best to live up to it."
She added: "I know there are great expectations from the public and huge responsibilities on my shoulders and I hope I can deliver as I am expected to.
"It will not be easy and I recognise that it is a huge load but with the support of my colleagues we will succeed to further modernise the judiciary."
Mrs Twomey, who is the third Seychellois Chief Justice but the first female to be appointed to the post, has had an illustrious career in the legal profession. She first served as a barrister in the Ocean Gate Law Centre as pupil to Justice Francis MacGregor, then in the Attorney General's Chambers, subsequently as an attorney-at-law in private chambers and a member of the Constitutional Commission before moving to Ireland in 1995.
She holds a Master's Degree in Public Law and currently lectures at the National University of Ireland in Galway where she is completing her PhD research.
Justice Twomey graduated with a BA in English and French Law from the University of Kent, holds a degree in French Law from the University of Paris-Sud and was admitted as a Member of the Bar at Middle Temple, London, and as an Attorney-at-Law in Seychelles.
Mrs Twomey was appointed a non-resident judge of the Court of Appeal in March 2011. With her new position Justice Twomey will soon be moving back to Seychelles.
"I still have some personal matters to tend to and some work to complete in Ireland as well as my thesis to defend. But as soon as I complete all of these I will return to Seychelles and hopefully by the end of September I will start work in my new position," she said.
Justice Twomey admitted that this new position will have some impact on her family life.
"I have had to make a lot of personal sacrifices and adjustments. I have four children – three of them adults who live abroad and a 12-year-old daughter who will stay with her father in Ireland to continue her education. But I am devoted to my country and I am ready to make those sacrifices."
Earlier, President Michel had said: "Justice Twomey is a highly-qualified legal practitioner, with a wealth of experience and knowledge, which, no doubt, will be of vast benefit to the legal and judicial system in our country and the reforms that are needed.
"She is the third Seychellois Chief Justice and I'm particularly proud of the fact that I have appointed a woman to the post, a first for Seychelles and a major achievement."