Electoral Commission acts to make presidential contest peaceful after claims of 'intimidation'
5th November 2015
The Electoral Commission is drafting a Code of Conduct for political parties to follow in the presidential election.
It follows a meeting with party representatives in which accusations were made of intimidation, threats and accusations.
There was unanimous agreement that the situation was unacceptable and not conducive to peaceful, free and fair elections.
The Electoral Commission is now appealing to leaders of all eight parties to call upon their supporters and agents to exercise discipline and respect for their opponents.
It says they should also show appropriate restraint to ensure that the election process is undertaken in a peaceful manner.
This follows a series of incidents including two in which presidential candidate Alexia Amesbury had eight of her dogs killed and Patrick Pillay, a former Minister and now candidate for the breakway Opposition group Lalyans Seselwa, had his puppy stabbed. Mr Pillay is also facing claims – that he denies – that he sexually molested a "houseboy".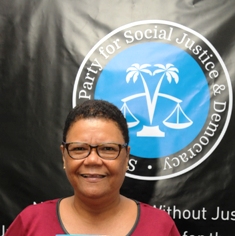 Mrs Amesbury, leader of the Seychelles Party for Social Justice and Democracy, has called on the ruling Parti Lepep to "play fair" in the election.
She said some Seychellois felt afraid to express themselves freely. "Some people say they cannot support an opposition party because they will be victimised as their children are waiting for scholarships, or they await planning approval for future construction."
She claimed "victimisation exists in Seychelles" and noted that "people should not be afraid to speak freely as freedom of expression is enshrined in our constitution and to make their own choices in a democratic society".
Mrs Amesbury went on: "Opposition party leaders should not be victimised as is the case now. I call on the party in power to play fair."
Mrs Amesbury, a lawyer, claimed her dogs had been killed and her husband followed but she would not be deterred.
"It makes me even more determined. I am being treated like a criminal and yet don't have any weapon. I only have a pen, a piece of paper and a book. People know very well that the pen is mightier than the sword. And that I suspect is the reason they are afraid of me."
The name of her running mate in the election and the party's manifesto will be launched later.
The SPSJD leader also says she will put up a case asking that two government ministers resign from their posts.
She said: "We have proof that the two ministers acquired properties based on corruption. We are not going to reveal the documents now, but it will be revealed."
Founding President Sir James Mancham has also appealed for calm in the election battle.
He said: "The presidential election does not provide us with a license during the election campaign to 'assassinate' the character of one's opponent be he the current President or another presidential candidate.
"We are a small country and although our economy looks good at this time, we must appreciate the need for stability if we are to consolidate on recent achievements. This will require that we all come together in an atmosphere of harmony to solve our problems.
"I believe that the Republic of Seychelles should aim to be One Nation under God, indivisible, with liberty and justice for all.
"In this respect I am appealing to all fellow Seychelles citizen to show decency and common sense over the next few weeks and thereafter."