Eden Island, the amazing project on land reclaimed from the sea
10th February 2015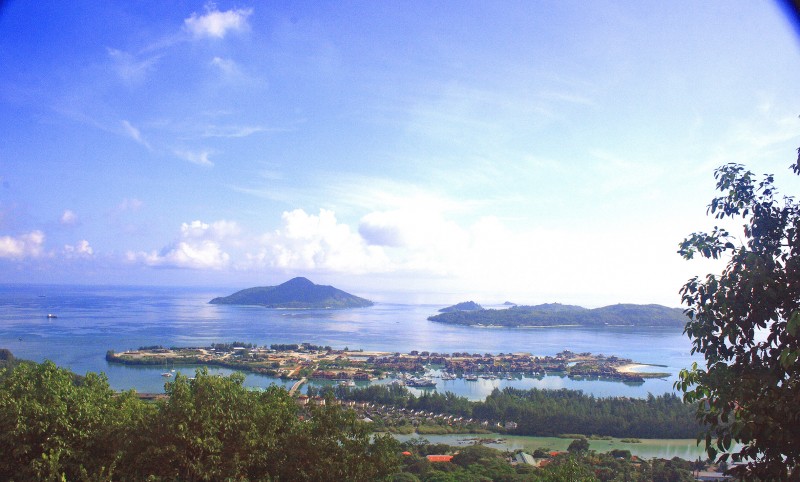 Any visitor to Seychelles cannot miss it. The impressive luxury residential development is on the east coast of the main island of Mahe and between the international airport and Victoria, the capital.
This is Eden Island, 100 acres of land reclaimed from the sea, the location of the largest yacht marina in this part of the world and one of the most scenic residential developments. The dredging was carried out at the turn of the century and development on Eden Island, linked to the mainland by causeway, started in earnest in 2005.
From the hills of Mahe, Eden Island is indeed a sight to behold, with hundreds of villas, maisons and apartments, with red roofing.
At night, Eden Island's eateries serve a wide variety of cuisine – from fast foods to authentic Creole cuisine and continental dishes.
They include the "Boardwalk" and "Bravo" which serve food, beverages and have dancing at weekends. There is also the "Maharaja Restaurant", serving authentic north Indian cuisine.
Also on the seafront, are "La Belle Epoque" offering fine international and Creole cuisine with DJ dance parties on Friday. It also hosts private parties. The "Havana" is just over a year old besides being a pub in an idyllic environment, it also offers pizzas, burgers and other light foods.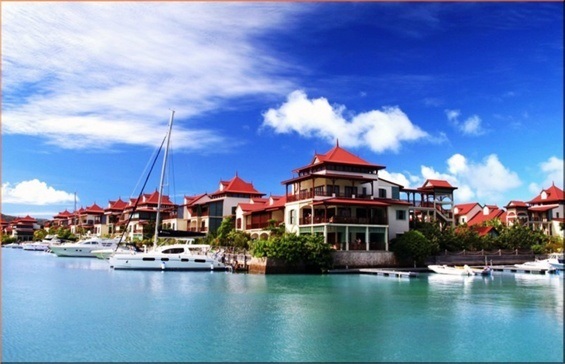 The pubs and restaurants on the seafront also come alive with music and dancing, particularly at weekends.
It also boasts 40 acres of private waterways, which means all owners of the apartments, maisons or villas enjoy a private mooring, either in front of their home, or close by in the Eden Island Marina.
Motor vehicles are not permitted beyond the Eden Plaza, a multi-storey complex housing a shopping centre, banks, clinics and a big casino.
Buggies are used by residents to get from the main car park, near the entrance of Eden Island to their homes.
The last of the units are now being built, which will bring the total to 583 by the end of 2016.
When the luxury residential development is complete, Eden Island will have a total of 380 apartments (1-3 bedrooms) 131 maisons (or duplex of 3 to 4 bedrooms) and 72 villas.
Peter Smith, Eden Island's sales and marketing manager, says that 475 units have been sold to date, the buyers being of 32 different nationalities including several Seychellois.
Smith said however that South Africans constitute the lion's share or 35 per cent of buyers, followed by French, Russians, Italians and Czechs.
Prices vary from $450,000 for a one-bedroom apartment to $3.5 million for villas – all of which have swimming pools and are located on parcels between 600 sq metres and 3,000 sq metres. They all enjoy complete privacy.
According to Smith, the Eden Island development, represents a total investment worth $500 million since it was started in 2005.
He says that in 2014, Eden Island was expected to contribute over $50 as Foreign Direct Investment (FDI) in Seychelles economy, which represents 4o per cent of the archipelago's total FDI.
Around a thousand Seychellois and foreign residents are employed on Eden Island, mainly in the restaurants, housekeeping, landscaping, the marina, supermarket and boutiques.
Last October, Eden Island inaugurated a welcome addition to its facilities.
This was the Eden Bleu Hotel, Seychelles' first business hotel.
It appears that everybody who is somebody in Seychelles was present at Den Island, for the inauguration of the 87-room hotel. Amid a lot of glitter, Vice-President Danny Faure cut the ribbon and unveiled the ceremonial plaque, in the presence of Eden Island Chairman Graig Heeger, to announce the 5-star establishment open.
The British group UB40, which has sold over 70 million records, then delighted the crowd with hits such as "I Got You babe" and "Red Red Wine".
The hotel consists of 74 luxury rooms, 12 luxury suites and a presidential suite.
It also boasts a 340-seat conference centre and six business meeting rooms.
The rooms have views of Eden Island's grand yacht marina.
Chairman Heeger told the guests that the new hotel is targeting MICE (Meetings, Incentives, Conferences and Exhibition) clients.
He said the hotel's exceptional digital technology for conferencing and meetings "is to date the most advanced in Africa". Eden Bleu has confirmed bookings for conferences and meetings for the next six months.
The hotel has a staff of 110, nearly all Seychellois.
Though Eden Bleu shall be targeting primarily business clients, it is expected that a fair share of guests shall be vacationers.
These include visitors who enjoy boating and inter-island cruising and who will find it convenient to be accommodated at Eden Bleu on their way to and from the smaller islands.