Danny Faure sees Seychelles links with 'old friend' China are boosted
17th September 2018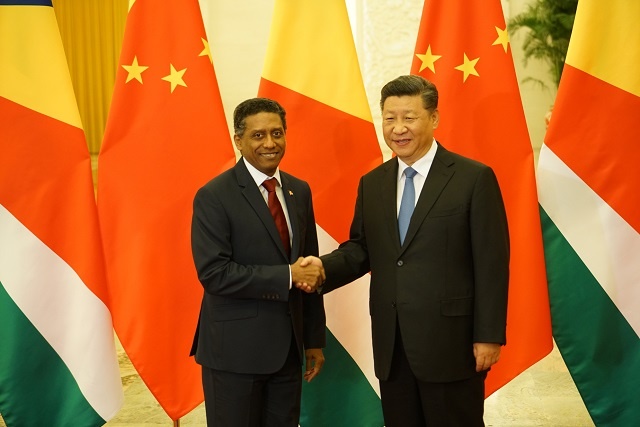 Danny Faure says he is looking forward " to an excellent working relationship" with President Xi Jinping of China.
Seychelles signed two agreements when the President and a trade delegation visited Beijing.
The heads of state of Seychelles and China held bilateral discussions in which Mr Faure thanked China for having been a key partner in the socio-economic and infrastructural development of Seychelles.
He said that he hoped that his first visit to China since assuming the presidency would play a key role in elevating the ties between the two countries."
President Xi Jinping said: "You are an old friend of the Chinese people, and this bilateral meeting and the FOCAC Summit aims to build an even stronger partnership. I would like to commend you and Seychelles for all that has been achieved, and we are prepared to work with you to elevate our cooperation to new heights."
Two Memoranda of Understanding (MOU) were signed.
The first MoU was on 'Cooperation within the Framework of the Silk Road Economic Belt and the 21st Century Maritime Silk Road Initiative'. The MoU aims to promote socio-economic and infrastructural development between the two countries. This includes opening up trade connectivity, deepening investment and industrial cooperation, and enhancing people-to-people connections in areas such as education, health, and sports.
The second MoU concerns 'Marine Cooperation towards Blue Partnership' and recognises the importance of marine cooperation and maintaining the oceans in climate change and sustainable development. The agreement will establish closer relations between ocean related agencies in Seychelles and China to improve the understanding of the ocean and climate change, and strengthen marine environmental protection and integrated marine management.