Creole celebrations go on despite the rain
5th November 2015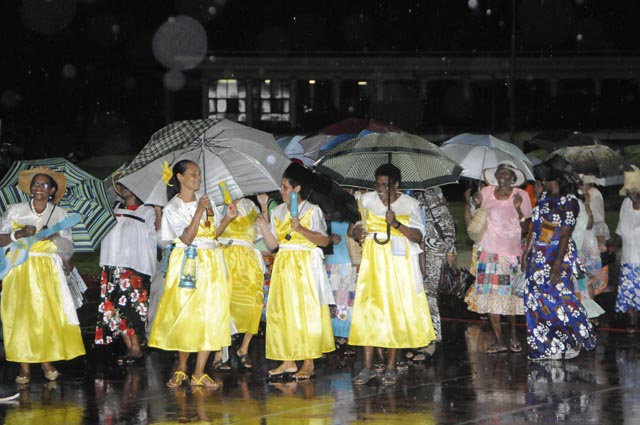 When you have been going for 30 years a spot of rain is not going to stop the celebrations... and so it was with the Festival Kreol in Seychelles.
More than 200 people in Creole costume defied a downpour to dance to traditional songs as they entertained the audience at Stad Popiler in Victoria.
"We've been striving for Creole to take its rightful place for 30 years," a spectator in her 50s said.
"The rain will not stop us from celebrating such an important anniversary. I myself feel so proud and came to give my support."
Another said: "Festival Kreol is an event that we must celebrate. We might not wear our traditional clothing every day, as we are living in modern times, but we are still proud to be part of the Creole nation and our presence today is proof of that."
This year people from Mauritius, Rodrigues and Reunion also took part in the Seychelles festival and President James Michel, who opened the event, said what was once a modest celebration has united the global Creole population globally – making Victoria, the world's Creole capital.
He said: "The Festival Kreol remains the means of developing and promoting our culture. In return our culture has become an important asset in the development of our tourism industry and our campaign to promote Seychelles."