Commemoration for Gerard Hoarau, a true son of Seychelles
4th January 2017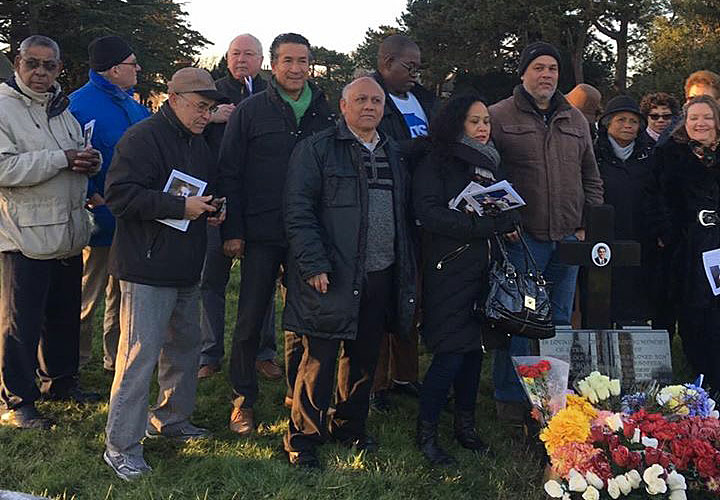 A group of dedicated family and friends of Gerard Hoarau paid their annual tribute to his life and sacrifice at a graveside service.
They braved the cold to gather at the New Brentford Cemetery in Hounslow, Middlesex, to honour a man who gave his life for Seychelles.
Gerard, who was in exile from his beloved homeland, was assassinated on 29th November 1985 outside his house in Edgware, London. He died while working tirelessly across two continents to bring democratic rule back to the Seychelles.
Gerard studied theology at the University of Rome, was fluent in four languages and served his homeland in various capacities. He was Chief Protocol Officer, Chief Immigration Officer, captain of the Seychelles national team and founder of the Rovers Sports Club.
The group, who are here pictured at the service held in early December, said they will continue to pray and fight for true democracy and every year they will get together until his body returns to his homeland in Seychelles for a proper burial.
Gerard, they proclaimed, was a true son of Seychelles who would never be forgotten. His dream would live on.
The prayers were organised by Lewis and Juliana Betsy who were close friends of Gerard.
Gerard was one of the brave ones who stood up against injustice
Readings were given at the Prayers by Alison Hoarau, widow of Gerard's brother Owen, and Josette Hoarau, wife of the younger Hoarau brother, Ralph.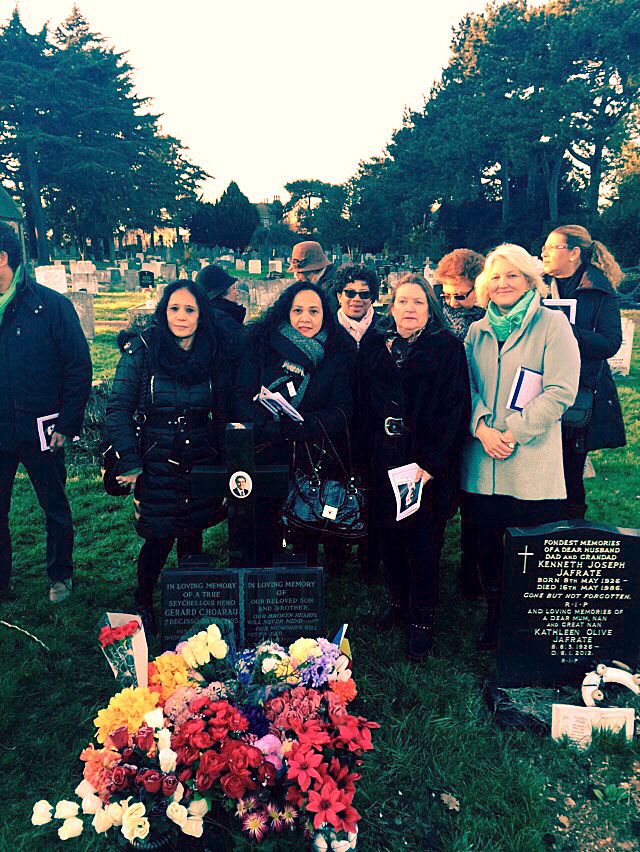 Josette Hoarau said: "We share the memorial message that was read at the graveside gathering today.
"Since 1986 after his burial we, Gerard's friends and family, have come to pay homage to his memory here in this corner of South West London. It is a strange time for us, and I think I speak for most who have at one time attended these gatherings. It is a feeling of sadness for the loss, melancholy for the memories and shame for the guilty and pity for those who continue to deny.
"Gerard and the other brave ones, stood up and declared or showed their opposition to the injustice and cruelty which was imposed on them and other Seychellois. However, it is always difficult to step out of one's comfort zone and speak up when a person knows that retaliation will be swift and they will incur losses. Not many of us can deal with living in fear of losing our lives and livelihood. So we take the easy road and remain silent or in denial.
"We are not here to remind others of their guilt, we are not here to enforce our point of view nor are we here to convince the deniers. We are not the police of people's conscience. Each year as we gather we do reflect on what is happening and the changes in the country that caused people to be standing here mourning instead of living back home and in peace and harmony.
"We hear people debating and talking of changes. We even heard that someone has apologised and the apology has been accepted. So not much has changed apart from new words being thrown about.
"As much as some would like to see us remain silent and accept the shadowy, pale, muffled apology, we remain firm in our commitment of remembering Gerard and what he fought for. For us we continue our yearly pilgrimage to Gerard's grave and hopefully, when we are gone, others will carry this memorial torch.
"It is up to us to remain true to our beliefs: that if someone gave up his life to fight for our freedom, we owe it to them to keep remembering their good deeds."