Beware the dangers of becoming slaves to machines, says Sir James
8th October 2015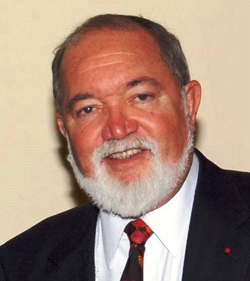 Sir James Mancham has warned how mankind must harness the power of technology and rethink the process of education.
"Machines were invented to serve humankind but if we are not careful, we will become slaves to machines," the former President said at the First Employment Pathway Innovative Conference in New York.
The conference was set up to address how technology can solve the educational and workforce challenges of our time. Sir James was concerned about the impact robots had on jobs and claimed that "the robots which are being built pose a threat to the wellbeing of mankind".
Sir James believes the world must develop a new system of education which will help people contain conflicts, intolerance and end distrust by developing a better understanding of human beings and their place in the universe.
He said: "At the moment, we cannot afford to perpetuate the type of education that we practise. The correction has to come from within education."
Sir James has written the foreword to a book about the Indian Prime Minister Narendra Modi. The book, by Dr. Adish C. Aggarwala, President of the International Council of Jurists and Sarah J. Marchington, is called "Narendra Modi – A Charismatic And Visionary Statesman" and is due out this Autumn. Sir James said: "Mr Modi has proved that he is a global leader par excellence."
President Obama has been urged to re-open the US embassy in Seychelles which was closed down at the end of the Cold War. In a letter, Sir James said: "Mr President, the sovereignty of the Republic of Seychelles must be recognised and respected.
"Over recent years, I have spoken to several personalities from the U.S. Navy and officials of the U.S. State Department, who have told me that the Seychelles situation is an anomaly which must be rectified. It would therefore be sad to see a situation of "Obama comes and Obama goes'"without bringing to a close this unfriendly and seemingly hostile attitude vis-à-vis the Republic of Seychelles."