A Merry Christmas to the new Seychelles
24th December 2016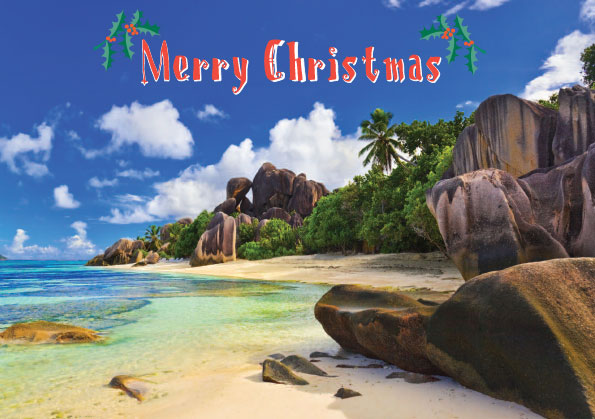 What a remarkable 12 months this has been in the history of Seychelles. Now after all the tough political campaigning in the Presidential and National Asssembly elections we should pause for thought. In this Christmas-time of goodwill I want us to look forward to lasting peace and prosperity.
I don't fool myself though. It will need some hard work.
I hope the new National Reconciliation committee appointed by the National Assembly last month can move closer to achieving true reconciliation. It is something that we've been waiting for and is essential.
Reconciliation will take a lot of pressure off the government because when everyone on the islands is in a conciliatory mood there is more tolerarance, more give and take.
That way everyone will win.
So, we must be positive. We need to get real for the sake of our people.
The political landscape has certainly drastically changed since December 2015 when Michel scraped in by a few votes to become President. Indeed, until the National Assembly elections it seemed it was going to be a very bad year for the people of Seychelles.
Afterwards everything changed for the better. LDS took power and in days we saw the departure of Michel and Danny Faure stepping up.
Whoever thought that would happen so quickly?
The changeover was clean-cut, yet I was disappointed with aspects of the National Assembly Elections. It was at times a very dirty campaign with a lot of insults and bad behaviour. We must learn from that and demand that campaigners raise the bar on their conduct.
Now we await the next Presidential Election with patience. After all that has happened in politics, both in Seychelles and abroad, I don't think anyone can predict the outcome with any certainty.
Meanwhile, I can see that there is no improvement in sorting out the drugs problem in Seychelles. We need to do something sooner rather than later.
This means a serious campaign which links up all the relevant organisations with government agencies.
President Faure came into office with plenty of promises, but if anything is happening the evidence is yet to show or, if there is change, it is going at a very slow pace. And that's too slow.
Faure needs to address the issue of inequality in society as well. The poor are getting poorer while the rich are getting richer. Seychelles needs a change of heart in that direction and that wants sorting out before more damage is done to our society.
With that in mind, I hope for good things with the December Budget which is being finalised as I write this.
So let all sides join forces for the sake of the Seychellois people at this time of year.
Christmas is a time for reflection and a period when we can prepare ourselves for the challenges of the coming New Year.
I am calling on all Seychellois people at home and abroad to work together for a better Seychelles. Let's make it a country that we can all be proud of and one which future generations will thank us for.
We need unity more than ever before so it's time to be more tolerant, more caring.
Yes, let's love Seychelles
I wish all Seychellois people, wherever they may be in the world, a Happy and Prosperous New Year.
Lewis Betsy is Publisher of SeychellesLife